Recently we ventured out on a two-day trip through Arkansas and Texas on our way to Pine Cove Family Camp in Tyler, Texas. For my family, traveling usually means very poor food choices, because most options off exits are fast food. However, this trip was different, and all because of Jason's Deli. Not just because of their food options, but more importantly, their customer service and the kindness they showed to my family and me.
At our first stop, I was thrilled that one of the closest food choices was a Jason's Deli. They have a menu full of healthy and organic options. Plus, my kids love their food and the FREE ice cream machine doesn't hurt a bit. That might be the most important point. 🙂 Anyway, instead of a white wheat pizza or greasy burgers that would make me feel bloated, gross, and make my face break out, we were able to make tastier and healthier choices at this local Jason's Deli. My favorite low-cal option there is the Mediterranean Wrap with organic blue corn chips and salsa. You really need to try it. Seriously.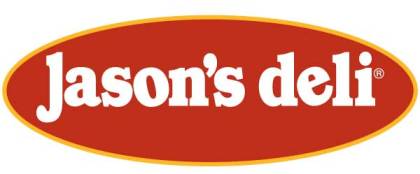 So, let's move past the food, even though that is my favorite part. (My readers know how much I love food!) As I walked up to the counter, I was greeted by a young girl smiling from ear to ear. She was patient with me and my son, who wanted to talk to me the entire time I was trying to order for us. She gave me ideas, was just flat out kind, and did I mention that she was extremely patient? Then we sat down and a young man came over and asked us if we needed anything. My husband and I asked him a few questions about whether we were in Texarkana, Texas, or Arkansas. (We were clearly not locals.)
A few minutes later he came back asking if he could print out a map and directions for us. He spent over 15 minutes carefully constructing a printable map with written directions for us to use on our drive, since our Garmin map seemed to be outdated. Then a lovely young girl came up and asked if she could get us to-go cups for our trip, and asked what we wanted them filled with.
That may not mean a lot to some, but for a mother of a family traveling, that was HUGE! Their repeated offers to help and their kindness has made me a cheerleader for life of Jason's Deli. They had me at the food, but they went the extra mile and now they have me for good.
Anyone else been to Jason's Deli? What is your favorite menu item?