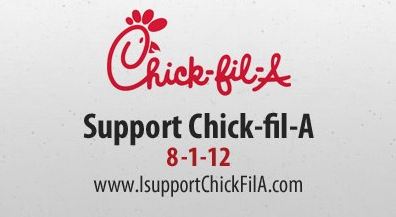 As a Christian, and especially one with this platform that the Lord has given me, I have struggled this week with whether or not this type of post is something that is even appropriate for my blog. I'm not a political activist or the type of person to get involved in a protest of any kind. However, it does bother me to see a fellow brother in the Lord being bullied for his beliefs. I'm sure you've heard the rumblings from this statement made by Dan Cathy, the owner of Chick-fil-A, who believes in a a biblical definition of marriage.
"I think we are inviting God's judgment on our nation when we shake our fist at Him and say, 'We know better than you as to what constitutes a marriage'. I pray God's mercy on our generation that has such a prideful, arrogant attitude to think that we have the audacity to define what marriage is about." [SOURCE: Wikipedia]
As a Christian, I support him. This is what the Bible says, and it is on the Word of God that I base my life and ground the principles by which I live. In saying this, please understand that like many of you, I have friends and family members who live a gay lifestyle. I love them dearly. My supporting Chick-fil-A is not an indictment on the gay community. I am supporting the biblical view of marriage. And I am supporting Dan Cathy's right to conduct his business according to the guidelines of his faith.
Chick-fil-A's corporate purpose is this: To glorify God by being a faithful steward of all that is entrusted to us. To have a positive influence on all who come in contact with Chick-fil-A.
CFA's stance is not new–in fact, it's no surprise to people who have seen them stand on Judeo-Christian principles, including taking a Sabbath day of rest, throughout the company's lifespan. This is who they are. They base their business on biblical values and they've always been outspoken about it. There is no condemnation in the statements that Dan Cathy made. I want it to be very clear, this is not a condemnation of the gay community. It is merely a statement about our faith and what we believe in, and the fact that we can speak openly is the beauty of living in America.
If you believe in the biblical view of marriage, and Chick-fil-A's right to operate their business based on the dictates of their faith, show your support on August 1 by going to Chick-fil-A to enjoy breakfast, lunch, or dinner.
If you leave a comment, I would ask that you please leave it in the nature that this post is written, as an open platform where anyone is welcomed. After all, don't we all live in glass houses?
**I am a CFA blogger, but no one has asked me to write this post. These are my views.