Please note: This giveaway is now closed. The winners are announced HERE.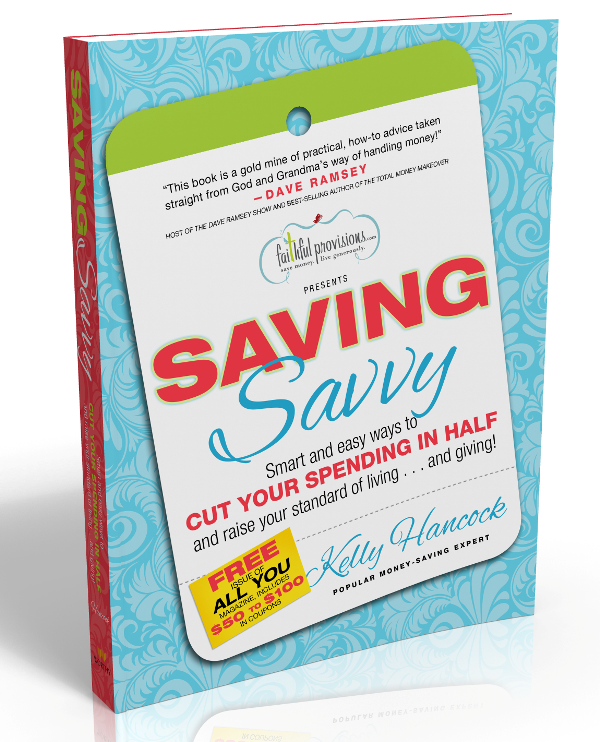 My savings philosophy here at Faithful Provisions is to save money in order to live generously. Saving money is about stocking up and strategic couponing and knowing what to buy when, but it's done with the fundamental desire to bless others out of our surplus. This holiday season, I would like to challenge any of my readers who are able, to give $25 in some way: to your community, to a needy family, to global missions, to a charitable organization, or to an individual whom you know needs a helping hand. My readers know that $25 will go a long way!
In The Save and Give Challenge, four winners will each receive a prize package containing:
Two copies of my book, Saving Savvy  – One to keep and one to give away
A $25 pre-paid Visa gift card
Follow the directions below to enter. You may enter now through Monday, November 28th, 11:59 pm CST.
Right now, you can purchase Saving Savvy: Smart and Easy Ways to Cut Your Spending in Half and Raise Your Standard of Living…and Giving! on Amazon for $11.35 (retail $16.99) and on Barnes & Noble for $11.35 (retail $16.99). Use giftcards from Swagbucks or Barnes and Nobel to save even more!
========================
GIVEAWAY DETAILS
Worthy Publishing is offering four prize packages, containing two copies of Saving Savvy and one $25 pre-paid gift card, to four randomly selected winners. The winners will be announced on NOVEMBER 29th, 2011.
Faithful Provisions Giveaway Disclosure:  Worthy Publishing provided me with 8 copies of Saving Savvy to give away. For more information about Faithful Provisions, please read my Disclosure Policy.
====================
HOW TO ENTER….
*One entry per person per method of entry per day. Be sure to enter a separate comment for each method of entry (one comment for Facebook, one comment for Twitter, etc.). This way you have a higher chance of winning.
**5 Entries per Person per day
1. COMMENT: Leave a comment sharing some ways that you will be "giving back" during the Christmas holidays this year.
2. NEWSLETTER SIGN-UP: Subscribe to my Email Newsletter – even if you already receive it, add an entry as a comment below!
3. TWITTER: Follow Faithful Provisions and Saving Savvy Book on Twitter.
4. FACEBOOK: Follow Faithful Provisions and Saving Savvy Book on Facebook. Be sure to "like" this post!

5. SHARE: Click on the Facebook, Twitter, or Google Plus icon at the top of this post, or click on any of the methods below, to share this giveaway with your friends.
====================
Giveaway ends NOVEMBER 28th, 2011, at 11:59 pm CST. The winner will be drawn using Random.org. Winner will be notified via email and the name posted on Faithful Provisions.