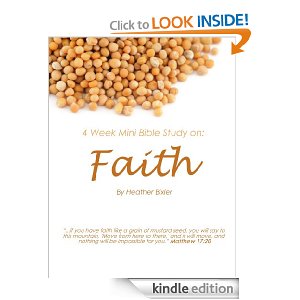 I'm excited to announce that–for the first time ever–I'm starting a Faithful Provisions Bible Study! You are invited to join my readers and me for this 4-week study that begins next week. We'll be going through "Faith: Four Week Mini Bible Study" by Heather Bixler.
WHAT: Faithful Provisions Bible Study (#FPStudy- Twitter Hashtag)
WHEN: Beginning Tuesday, April 24th, 8:00 – 8:30 PM (CST), and continuing for four weeks.
WHERE: The Faithful Provisions Facebook page
HOW:  Help us spread the word! Use the Facebook buttons and "Like" this post if you want to join me, and please use the "share" button to help me spread the word! Below as some sample posts you can put on your wall to help out:
Facebook:
I'm joining Faithful Provisions for an interactive Bible Study on Faith. We'll be chatting about the book on Facebook Tuesdays at 8pm CST. Join us: http://bit.ly/HHxJDY
Twitter:
Join me & @FaithfulProv for an interactive #Bible Study on Faith! Details: http://bit.ly/HHxJDY #FPStudy Pls RT
[fblike]
DEGREE OF DIFFICULTY: Easy! This Bible study is short and sweet, and we'll be able to have some great discussions. I'll have questions that I'll be asking, and we'll all be able to talk about them.
*Even if you don't get a chance to finish reading the week's lesson, you'll still be able to easily participate, and I want you to!
FREE Bible Study eBook
Last week, the book was offered as a Free Download. If you did not get the book last week, the author will be offering it once again for FREE tomorrow, April 18th, so make sure you're signed up for the Faith & Family newsletter to get the details on that.
This study will be on the Faithful Provisions Facebook page, but we'll use Twitter to spread the word and share insights between our sessions together. Use the hashtag #FPStudy.
Reading assignment: Next week's first session is titled: Focus on Today. That's a great place to begin a study on faith. Read through it, and then I hope you'll join us. I can't wait to connect with you!
You might also like: