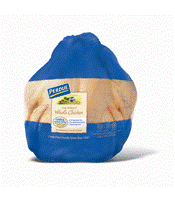 Be sure to print this $1/1 Perdue Whole Chicken printable before it is gone.  There will likely be a sale very soon on these to give you a great price.  I frequently find whole chickens on sale for around $.49-$.89/lb.
Thanks I Heart Publix!
Ideas for Your Bird
I buy these to make Roast Sticky Chicken, and then turn it into Homemade Chicken Broth.  Both can be frozen, which let's you "never pay full price again"!
Organic Chicken Your Thing?
There are also some great ways to save on Organic Chicken, if you like to make the most of your bird.