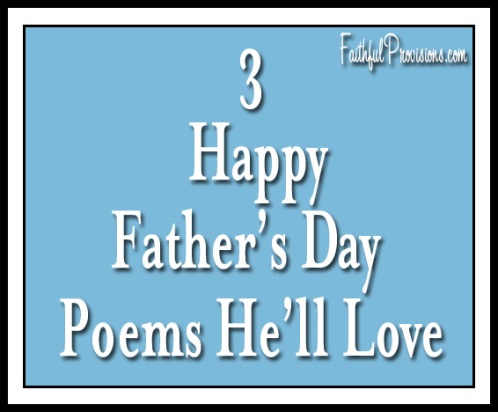 These happy Father's Day poems will fit the space on a card, bookmark, or scrapbook page. Not too long, but they still say so much. "A Daddy Like You" is a great little Father's Day poem that would be perfect for a new dad. So precious!
I think "Dad's Words of Wisdom" would be great for anyone to give their dad. It really rings true, like all inspirational Father's Day poems. And the last one in this post, "When Daddy Gets Home" describes a typical day at the Hancock house perfectly. I think I might use that one for Bradford's card.
A Daddy Like You
Hey Daddy!
Whatcha got?
Looks like you
love that baby a lot!
Your arms are full.
Your heart's full too.
So glad my baby
has a daddy like you.
~Author Unknown
Dad's Words of Wisdom
You always knew just what to say.
"Did you put your bike away?"
You knew all the answers.
"Go look it up."
You were always so generous.
"Save for it until you can buy it yourself."
You taught me the value of solitude.
"You're grounded!"
You taught me to plan for the future.
"When I get home, you're gonna get it."
And you always shared your feelings.
"I love you. I do all this because I love you."
Thanks, Dad.
~Author Unknown
:: Find more funny poems for Father's Day HERE.
When Daddy Gets Home
"Dad's home!"
Hear the screams and shouts?
See all the kids come running out?
You're the man of the hour–
A super hero with super powers.
We celebrate every day,
not just once a year.
You're so important.
Have you noticed, dear?
Happy Father's Day!
~Author Unknown
I love free Father's Day poems, like this one written by the great Christian poet Helen Steiner Rice. It's perfect for a sentimental Father's Day card, note, or letter.