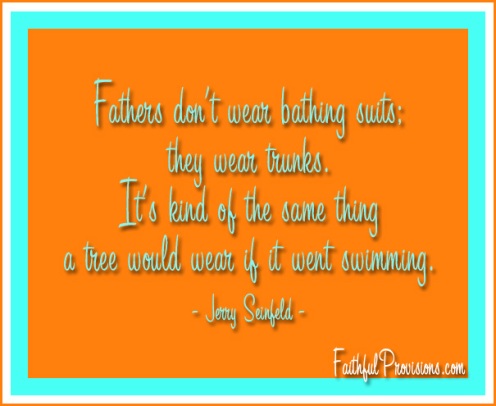 When I'm looking for happy Father's Day quotes, I love to check out the ones that are current, but oldies tend to be my most favorite. We love to be entertained, right?
My husband and I joke and say he has the sense of humor and I don't. But hopefully, even he will be proud of me for getting out of the box! He keeps things happy, and he knows how to lighten the mood with humor at just the right moments. I think men are better at making fun of themselves than women are, don't you? That's why you're going to love these cute quotes about Dad.
When I was a kid, I said to my father one afternoon, "Daddy, will you take me to the zoo?"
He answered, "If the zoo wants you, let them come and get you." ~Jerry Lewis
I have never been jealous. Not even when my dad finished fifth grade a year before I did. ~Jeff Foxworthy
I guess the real reason that my wife and I had children is the same reason that Napoleon had for invading Russia: it seemed like a good idea at the time. ~Bill Cosby (Check out these funny Father's Day Quotes for cards by Bill Cosby)
If my father had hugged me even once, I'd be an accountant right now. ~Ray Romano
Fathers don't wear bathing suits; they wear trunks. It's kind of the same thing a tree would wear if it went swimming. ~ Jerry Seinfeld
::  If you're looking for quotes that are a little more inspiring, check out some of my favorite Inspirational Father's Day Quotes from Movies.

Is there one Father's Day quote that is my favorite? You bet!