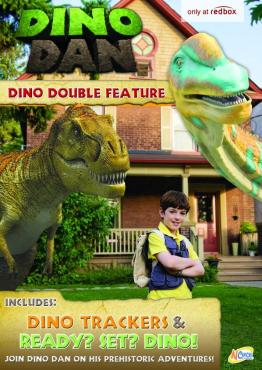 I love being a mom of little ones. On any given day, I may not be eating lunch with a little girl, but instead with a princess or a pop star. And when it's naptime for my son, I may not be reading a book to a little boy, but instead to a car or a lion! Kids and their imaginations–that's something I want to enjoy and help them cultivate, don't you? And it seems like a lot of times, kids don't get the chance to exercise their imaginations.
Most kids today seem to have a lot of "screen time." I think it's easy to fall into the trap of letting television or movies act as a babysitter for children, and I don't think any of us really intend to do that. But what if we watch a movie like Dino Dan: Dino Trackers / Ready? Set? Dino! together, as a family? When it's over, we can turn the TV off and use what we just saw as a launching pad for creativity, sparking our kids' imaginations.
For example, in Dino Dan: Dino Trackers / Ready? Set? Dino!, kids watch a boy named Dan as he studies his passion: dinosaurs! It's fun to see the great special effects as the dinosaurs pop up in every scene and offer children creative play activities.
Ideas for How to Encourage Imagination:
Act out the dinosaurs. Let them try their own special effects and make the sounds they think the dinos would have made. Suggest emotions to go along with their sounds. Ask:What sounds would a happy dinosaur make? A sad dino? A hungry dino? A dino ready to take a nap?
Get out paper and drawing tools. Ask your child to draw his favorite dinosaur. As you draw together, find out why this dinosaur was his/her favorite. Bring out some characteristics that you learn from the movie, such as what this dinosaur likes to eat.
Make a dino-food sculpture. Dinosaurs love eating vegetation. Using broccoli and cauliflower "trees" and cucumbers, carrots, raisins, and grapes, create an edible food picture of a dinosaur scene from the movie.
It's important and fun to watch movies together as a family, plus it's a great time to cuddle up and enjoy learning more about what your child likes as well as how he/she learns and processes new information. How do you spark your child's imagination? What do you use to jump-start his/her creativity? Do you think it's important for children to pretend and imagine things?
Ignite your child's imagination this summer! Rent Dino Dan: Dino Trackers / Ready? Set? Dino! and other Family Fun movies & games from Redbox this summer and you could win one of three family vacations, including a trip four to Toronto for walk-on role in Dino Dan (if you rent before 7/8)! Official Sweepstakes Rules
3 Easy Ways to Enter:
Rent a participating movie or game at a Redbox kiosk before 8/27 and enter your email at check out. Click here for a complete list of participating titles
Reserve a Summer Family Fun title online
Go here to find out how to enter without renting
This is a sponsored conversation written by me on behalf of Redbox. The opinions and text are all mine.