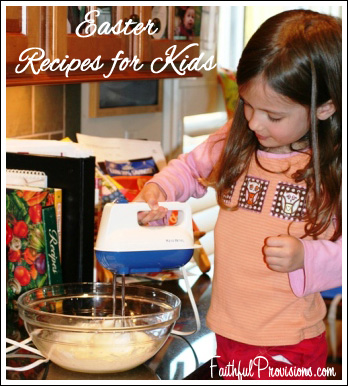 Looking for Easter Crafts recipes for kids? Children learn by working with their hands. It creates a memory marker for them. Kids recipes for Easter that incorporate all five senses are perfect for creating edible crafts that help them learn. Think about it: touch, taste, smell, sight, and sound come together in the kitchen. Try these easy recipes for Easter craft projects that are good enough to eat:
Resurrection Rolls — Perfect for the youngest preschoolers to learn the story of the Resurrection this Easter. Kids cooking with you in the kitchen is easy with this recipe that involves very little clean-up.
Empty Tomb Cookies — Easter craft ideas for kids who are older can be a little more involved. Ive got step-by-step instructions for these Empty Tomb Cookies, plus a FREE download so you will know exactly what to say and which Scriptures to read.
Turtle Cookies — Put these together simply and inexpensively, using coupons that match all the Easter candy sales going on right now. PLEASE NOTE: These are addictive! LOL
Robin Egg Nest Treats — These fun Robin Egg Nest treats allow little crafters to have fun making their own kids' Easter recipe that can double as a cute centerpiece for your table. (If they last that long!)
 Find more articles with great Easter Crafts Ideas on Faithful Provisions!