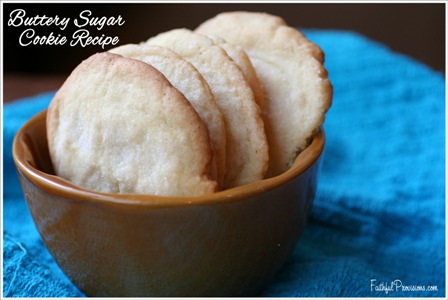 If you're looking for a basic sugar cookie recipe, you just found it! These easy Sugar Cookies are light but buttery, and not too sweet, with a little crisp on the edges– which is just the way I like them. Simple sugar cookie recipes don't vary all that much. The ingredients are pretty standard. You probably have everything you need to make these on hand right now. We made this basic sugar cookie recipe one afternoon while our neighbors were here, and the entire plate was gone in about 10 minutes!
*Scroll down to use print recipe feature and add to your Recipe Box.
We turned it into a fun recipe for kids. I let the kids sit around the table with a buttered cup, and they dunked them in sugar. Then they flattened out the cookies for me after I dropped them on the cookie sheet. Of course before we stuck them in the oven, we had to sprinkle a little extra sugar on top.
Easy Sugar Cookies
Ingredients
1 whole Large Egg
½ cup Canola Oil
1 stick Butter, Softened
½ cup Sugar (plus a extra for sprinkling)
½ cup Powdered Sugar
½ teaspoon Vanilla Extract
2 cups plus 1 Tablespoon, All-purpose Flour
½ teaspoon Salt
½ teaspoon Baking Soda
½ teaspoon Cream Of Tartar
Instructions
Preheat oven to 350 degrees.
Cream together eggs, oil, butter, sugars, and vanilla in large mixing bowl.
Add remaining ingredients, being sure to mix well.
Cover and refrigerate dough for about one hour.
Drop balls of dough onto an ungreased cookie sheet, using a cookie scoop or a spoon.
Grease the bottom of a glass with butter. Dip the glass in granulated sugar. Using the bottom of the glass, press each ball of dough to flatten. Use a fresh dip of sugar for each cookie, until all are flattened.
Bake for 9 to 11 minutes, until cookies are just barely turning brown. (Don't overbrown.) Cool before serving.
Adapted from The Pioneer Woman