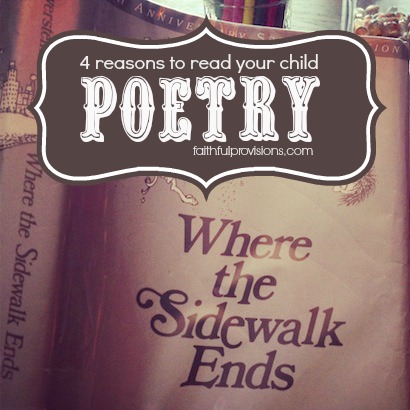 One thing we're trying to do in our homeschool is to read more poetry. I'm not a big fan of poetry, but I've learned that it is really powerful for a child's learning experience. Here are a few things that poetry does for kids:
Helps kids practice listening skills. Poems don't take long to read, so they are the perfect size for young children to practice paying attention and listening.
Improves kids vocabulary. More so than anything else, poetry contains words that you won't find in every day reading. Because kids pay attention to the cadence of rhythm and rhyme, those new words will stick with them.
Makes kids think. With its descriptive phrases and rich detail, poetry helps kids imagine and think. You'll see poems you've read together be expressed in your kids' pictures and other art.
Makes learning fun. When we read children's poetry together, we find ourselves laughing out loud from the funny phrases and creating pictures in our minds from the poet's descriptions. It's just plain fun!
Recently, we picked up Shel Silverstein's book, Where the Sidewalk Ends. I remembered reading it as a child, and I was looking forward to sharing it with my two. The other night before Bible study, we read some a few selections and they loved it. They loved hearing me read! I read them my personal favorites first, including
Sick by Shel Silverstein
"I cannot go to school today,"
Said little Peggy Ann McKay.
"I have the measles and the mumps,
A gash, a rash and purple bumps."
We started reading and they didn't want us to quit. I read with a lot of expression, and the kids LOVED it. They giggled and laughed, and this morning they asked if we could do it again tonight!
Learn more about the curriculum I'm using this year.
Do you use poetry in your homeschool?
What are your favorite poetry books for kids?