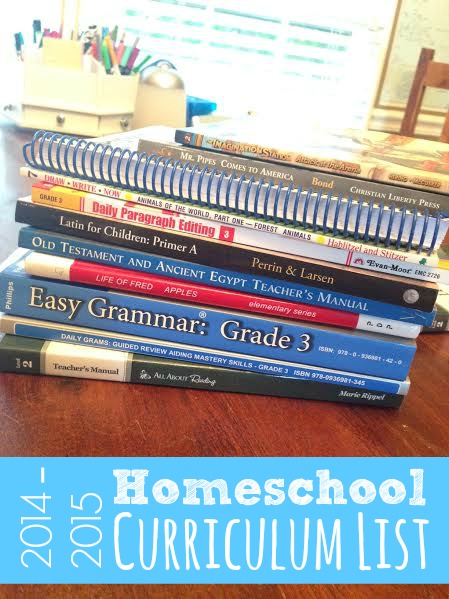 We started school last week so I figured it's time for me to share my curriculum choices for our 2014-2015 year! This year I researched and prepared more than any year, and so far it is REALLY paying off. I especially needed to prepare ahead of time since having a newborn in tow! School is going more smoothly and I feel more confident in our days than ever before. Plus, my kids are noticing. They've told me this is the most fun year they have ever had. I think that is in part because they are not having to wait on me to make copies or figure out what we are doing. 🙂 You can follow our days on my Instagram page. I don't always have time to pull together a post, but I love to grab quick shots of our days to share!
One big change I made this year is starting the day with what we call "Circle Time". This is a time where we start with prayer, hymns, Bible reading, character training and more.   (I'll try to post more on this later!) It was an idea from my friend Abby (who is so creative!) who calls theirs "Window Time".   Call it whatever works for your family and run with it.
Here's my curriculum list for this school year:
Curriculum List for My Kindergartener
My son is doing K6 this year.  Below you can see what I'm using this year as the curriculum list for Kindergarten-6, since he did Kindergarten-5 last year.
Language Arts
Math
History / Geography
Science
Bible
Language
Spanish – at homeschool tutorial once per week
Music
Art
Extra Curricular
Curriculum List for My 3rd Grader
This is my curriculum list for my 3rd grader. With a few years experience of homeschooling her, I've become more comfortable at knowing what works for her and what she'll like. However, there is still some trial and error!
Math
Language Arts
Typing
Literature
History
Science
Bible
Language
Spanish – at homeschool tutorial once per week
Music
Art
Artist per Month Study using books by Mike Venezia
*Artists Selection: Warhol, Lichtenstein, Kahlo, Dali, Grandma Moses, Seurat, Matisse, Rembrandt, Rockwell
Extra Curricular
What does your curriculum list look like for this year? Got any tips for homeschooling two kids? Please share in the comments below!
More Homeschooling posts you might like: