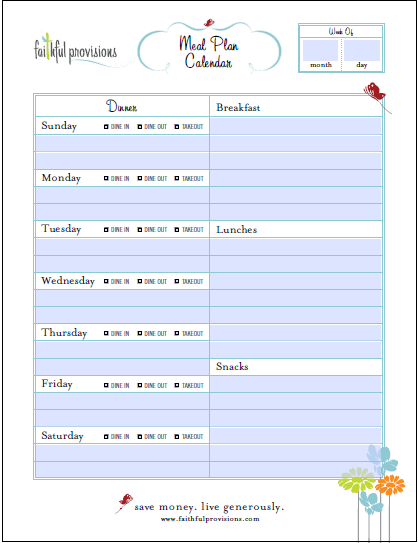 Do you know what's for dinner tonight? It's not a trick question. I really want you to have a plan for your dinner tonight, and every night. It will relieve evening stress like nothing else when you know what you are going to eat, when it will be ready, and how delicious it will taste! Here are five tips to help you avoid the weeknight dinner scramble.
1. MEAL PLAN. My number one tip to avoiding the 5 o'clock dinner scramble is to have a basic plan for the week. It is just a list of what I can make with what I have on-hand. Use my FREE, downloadable Meal Planning Template (pictured above). Put it on your refrigerator so you know what you are having!
2. FREEZE EXTRA MEALS. I schedule one Kitchen Prep Day per month. This is a time for me to put a few meals into the freezer so I have backups to keep me from going over my budget. These are perfect for those weeknights when soccer practice and dance class keep you out of the kitchen at the dinner hour. (Find some great Freezer Friendly Breakfast Recipes HERE.)
3. COOK ONCE, EAT TWICE. I love "leftover" meals, and I'm not talking about eating the same exact dinner two nights in a row. These are meals in which you cook enough meat for two days, then prepare it a different way on each day. A family favorite is the Roasted Sticky Chicken that turns into Chicken Enchiladas on the second day.
4. TAKE INVENTORY. Take stock of what you have on hand, like meats, vegetables and dairy. It's nice to pick up fresh broccoli and sweet potatoes when they're on sale, but you're not saving any money when they spoil and you end up throwing them away. Read how I beat my challenge to Waste No Food HERE.
5. GET INSPIRATION. I like to search online recipe sites, but then some days I like to get inspired by what other people are cooking. My Weekly Meal Plan or What's for Dinner Tonight posts help to see what other moms are cooking, and many times I make the same meals. You can even download a free menu planner on the FREE Downloads page.
What's your favorite tip for beating the weeknight dinner scramble? Do you cook ahead? Use your slow cooker? Share your ideas with the Faithful Provisions Community.