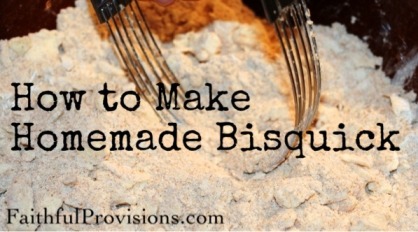 I came across this recipe for Homemade Biscuit Mix, like Bisquick, in an old edition of the famous, red plaid cover, Better Homes and Gardens Cook Book. Now, the edition that I have is over 20 years old, but this is the cook book that sets the standard. (TIP: It makes a great wedding gift!)
One of the reasons I don't buy it anymore is because the boxed version is loaded with preservatives and hydrogenated oils, and who knows what else. But if you grind your own wheat and use very cold coconut oil, you will have a great healthy version you can use on hand!
How to Make Your Own Bisquick
Instructions
In a large mixing bowl, stir together flour, baking powder, sugar, and salt.
With a pastry blender, cut in coconut oil until mixture resembles coarse crumbs.
Store in a covered airtight container up to six weeks at room temperature. (*Please note: If you use whole wheat flour at all, this will keep best in the refrigerator.)
TO MAKE BISCUITS:
Use 2 cups Homemade Biscuit Mix to 1/2 cup milk. Mix together, then roll out on a lightly floured surface to 1/2-inch thickness. Use a 2 1/2 inch biscuit cutter. (In a hurry? Make "drop biscuits" by dropping spoonfuls of the dough onto an ungreased baking sheet.) Bake at 450 degrees for 10-12 minutes. Makes around 10.
TO MAKE PANCAKES:
Use 2 cups Homemade Biscuit Mix plus 2 beaten eggs and 1 cup milk. Stir until slightly lumpy. Drop batter by 1/4-cupfuls onto a hot, lightly greased griddle or heavy skillet. Cook one side until pancake has a bubbly surface and slightly dry edges. Flip to cook other side. Makes around 10 pancakes.