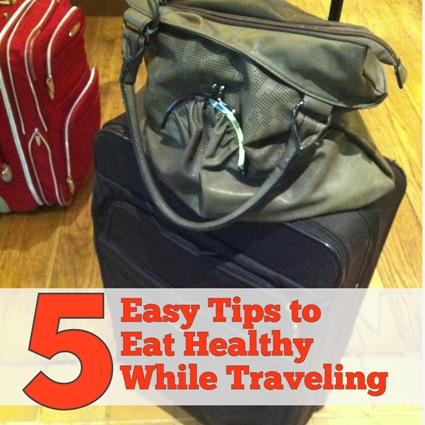 Recently, I was recently on a trip to a blogging conference with my friend Calie of Broccoli Cupcake. Now if you are like me, the minute you leave for the airport, all common sense about saving money on food and eating healthy go right out the door. I am "on vacation" from both. However, once home, and usually mid-trip, I am greatly regretting those poor choices.
This trip with Calie was very different for me for a few reasons. Traveling with a health coach definitely makes you more aware of what you are putting in your body! But after the first day of our trip, I quickly reaped the rewards of eating healthy while traveling. Often people, including myself, justify our poor choices:
 I'm traveling and there just aren't any healthy options.
 It costs too much to eat healthy.
 I can't take anything on the plane.
Sound familiar? Well, I debunked all of my excuses this weekend. After a weekend of making much better choices in my eating habits than I have on previous trips, I not only enjoyed my time away more, but I felt much better once I got home!
Some of the symptoms many of us experience are…
Red and burning eyes
Traveler's colon ( yes, I went there)
Dry skin
Fatigue
Bloated, sluggish feeling
Many of these symptoms can be alleviated by just making the right nutrition choices and taking a bit of time to plan ahead for your trip.
Here are my top tips for eating healthy even while traveling:
1. Accountability – It is easier to stay on track with the support of a friend or family member. Speaking your intentions out loud to a friend is the first step to making them stick!
2. Hydration – Drink more water than you think you can. Don't worry about having to take a potty break every few minutes. Most people are chronically dehydrated anyway.
3. DIY Snacks – Pack healthy snacks like trail mix, nuts, nut butter packets, and fresh fruit. Choose simple foods to hold you over until you can get some real food. This saves you a little money too!
::Be sure to grab Calie's  free download HERE packed with "on-the-go" snack ideas!
4. Avoid fast food – Prepackaged sandwiches and other fast food items contain  processed meats and cheeses that are generally loaded with sodium–which will dehydrate you and trigger cravings.
5. Snack Healthy – Don't be afraid to snack, as long as you are snacking healthy. Curbing hunger is your best defense against a bad decision (like fast food). When you're REALLY hungry there may not be enough willpower in the world to keep you out of the fast food line. Choosing a healthy snack before your hunger takes over is a good idea.
Calie Shackleford, founder of Broccoli Cupcake, contributed to this article. Learn more about Calie and her expertise as a food coach HERE.
Check out 10 Heart Healthy foods and recipes HERE on Faithful Provisions!