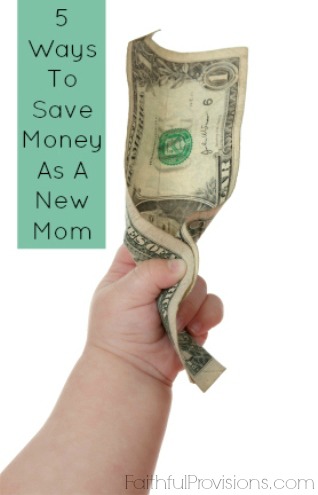 How to Save Money as a New Mom
Babies are expensive. No doubt about that. But there are ways to save money, even in the first year when it seems as though your baby's needs outnumber those of any other member of your family. Here are 5 ways to save money as a new mom without breaking the bank.
Make Your Own Food for Baby
Of course, if you are breastfeeding, you are naturally "making your own food" for baby. If you haven't given breastfeeding serious consideration, I encourage you to do so. Besides being the best food for your baby, it is also the most economical. While formula is perfectly healthy for baby (I personally could not breastfeed and formula fed both of my children), it is very expensive. Doctors and experts agree that breast milk is best for baby and that should be reason enough to work hard at your ability to nurse your baby. If you need additional motivation as you press through those tough first weeks of breastfeeding, keep in mind that it is best for your budget as well. When baby begins eating solids, you will also save money by making your own baby food. There are guidelines that should be followed when preparing your own foods for baby but once you get a system down, you'll find the savings well worth the work. Ask your pediatrician for guidelines and recommendations as you plan to prepare your own baby food.
How to Save Money on Baby Clothes: Consignment
With all of the short-term gear and clothing that is necessary for baby, you'll learn how to save money on baby clothes when you discover consignment. You'll save the most by purchasing gently used items at consignment shops or sales. Items such as swings, play yards and even clothes are used for such a short period of time throughout baby's first year, so you should be able to find what you need in good condition. Ask around for the best consignment shops in your area and look for seasonal consignment sales for a large selection of pre-owned clothes and gear right when you need it. As you cycle through your own baby items, plan to participate in seasonal sales or sell directly to your local shop. With the right amount of planning and organization you can recycle your baby budget season after season by buying and selling consignment.
Borrow/Swap Baby Clothes and Gear
The only thing better than buying and selling consignment is borrowing baby clothes and gear or swapping with a family member or friend. Connect with another mom who had a baby 6-12 months before you, and she'll likely have unused baby items sitting around. She may not be ready to sell them yet since another child is likely in her future. Offer to take those items off her hands for a few months. Chances are, you'll be ready to return them just in time for another baby to grace her home.
Coupons for Baby Items
Even if you aren't an avid couponer, it's worth a little bit of extra work for the high dollar offers you will find on coupons for baby items. Think diapers, formula, and baby food. Companies have your attention for 6-12 months and they want your loyalty. They know their products are high dollar and they will reward you for sticking with them. Sign up for every new mom website and mailing list you can find. You may have to wade through a sea of propaganda, but it will be worth the work when you discover regular $5 off coupons in your mailbox.
Buy in Bulk for Baby
I did a lot of research when my babies were born. Diapers, wipes, and formula are almost always cheaper at price clubs. If you are a committed clipper, then you may get a better deal with multiple coupons and a store sale, but for the most part, you will do well to purchase these items in bulk. Be sure to do your own research on the best place to buy the brands you love as prices may vary from store to store. Check out programs such as Amazon's Subscribe and Save/Amazon Mom that offers an additional discount if you sign up to receive an automatic shipment each month.
These steps are simple but they will go a long way in helping the bottom line of your budget. And who knows. . .with the extra cash you have on hand, you may just be able to get dinner, a movie, and a babysitter!
What are some ways you have found to save as a new mom?
Article by Jessica Wolstenholm, author of  The Baby Companion: A Faith Filled Guide for Your Journey Through Baby's First Year. Learn more about Jessica HERE.