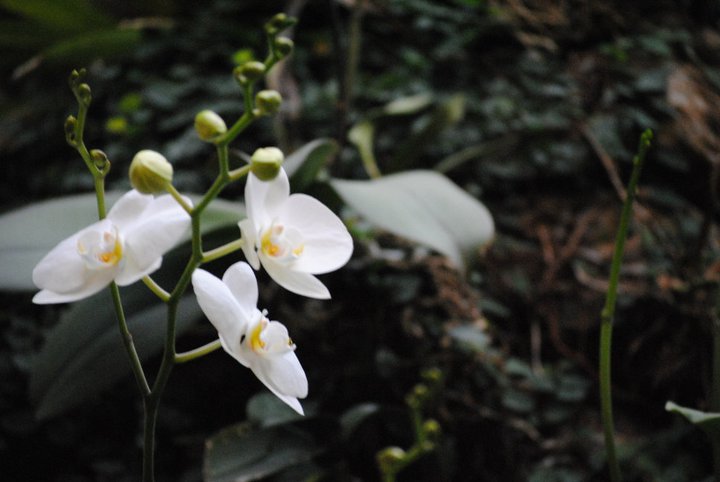 And if God cares so wonderfully for wildflowers that are here today and thrown into the fire tomorrow, he will certainly care for you. Why do you have so little faith? (Matthew 6:30)

I was lying in bed the other night, and all that was going through my mind was how things were not going right in certain areas—specifically with my blog and my book. It's not that those things are not doing beautifully; it's not that at all. It's just that competitive nature in me! In my mind and with my personality, those things could always be doing better. Because things weren't going exactly the way I wanted them to—in that particular moment of time—I was losing sleep. Like most of us, I have a hard time being content.
But them something amazing happened.
God interrupted my fretful thoughts and gave me a perspective that I knew could only have come from Him.
He reminded me—so gently—of what I didn't have to worry about:
My marriage.
My children.
My health.
My friendships.
Even my finances.
All the things that really matter in life were not causing me to worry. But unfortunately, from my distorted perspective, all I could see was the things that really do not matter.
Don't worry about anything; instead, pray about everything. Tell God what you need, and thank him for all he has done. (Philippians 4:6)
Not only was I worrying (I should have given it to the Lord), I was worrying about something that was His anyway. I was worrying about something that, on my list of priorities, was not at the top. Not that the blog and the book aren't extremely important, but when placed with my other priorities of being a wife and mother, they fall a little farther down the list. Yet I chose to let that be the determining factor of my attitude.
What I learned at that moment was this: God tries to teach us throughout His Word to see things from His perspective. The enemy, Satan, distorts our perspective. When we see things through God's Eyes, we have clarity. But when we let worry and distraction seep in, there is no clarity. There is no looking at it from God's view.
"So don't worry about these things, saying, 'What will we eat? What will we drink? What will we wear?' These things dominate the thoughts of unbelievers, but your heavenly Father already knows all your needs. Seek the Kingdom of God above all else, and live righteously, and he will give you everything you need." (Matthew 6:31-33)
For me, and I think for most of us, the enemy slips in when we allow ourselves to get distracted by the lesser things of this life. God tells us all through His Word that the most important thing is our relationship with Him and our relationship with others.
One of them, an expert in the law, tested him with this question: "Teacher, which is the greatest commandment in the Law?"
Jesus replied: '"Love the Lord your God with all your heart and with all your soul and with all your mind.'This is the first and greatest commandment. And the second is like it: 'Love your neighbor as yourself.' All the Law and the Prophets hang on these two commandments." (Matthew 22:35-40)
The next time you are worried about something, I want to encourage you to ask God for His perspective. Then, take a look at what you're worried about. Are your priorities in order? Mine weren't. I was allowing work to be my priority. I was allowing work to consume my thoughts, and then the door was opened to the enemy. He takes every opportunity to plant a perspective of fear and worry, rather than faith and contentment.
I have a feeling that my upcoming mission trip to Ecuador will offer me yet another chance to see life from a different view—from God's perspective rather than my own. I want to ask you to pray for me, that I will have a Christ-like perspective and an open heart for all He has for me there.
What do you do when worries consume your thoughts? I'd love for you to share your thoughts about this post, and any favorite Scripture verses you rely on too!