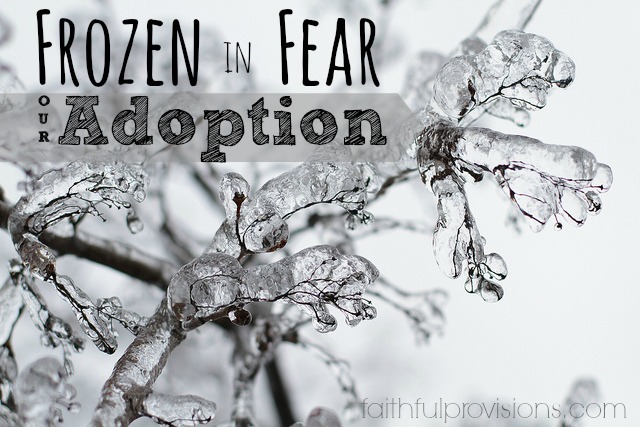 Our Adoption Journey
It's been a little while since I told you we were adopting. Do you know why? Because I have been frozen with fear. I've been feeling like my feet are stuck in the mud – scared to pull them out and walk forward. I'm trying to wrap my head around what this new season of our life will look like. Mainly, there are two things that have kept me holding back.  Made me not ready to jump in with both feet into this icy cold pool of adoption and all that comes with it.
Admitting My Fears
The first thing … Me.  I'm 41 years old and trying to picture myself with a new born. I don't do well without sleep (but really, who does?!) and I can't imagine going back to sleepless nights.  Last month we had a night when our electricity went out and we were awake every hour because of the electricity flickering on and off all night.  That was a rude awakening for me that this is what it will be like with a newborn. No sleep. That was all that consumed my thoughts for the next day.
The second thing … homeschooling. I am just getting into the groove of homeschooling two kids each day. Going from teaching one kid to two kids was a HUGE adjustment for me.  Now that three-quarters of the year is over, I am finally feeling settled. Each day when I open my teacher books, I wonder how a baby will fit into this. Am I going to be able to give my other two kids what they need from me? Will I lose my patience a lot (like I used to)? Will I leave big gaps in their education because I am just trying to get by?  Isn't that awful to say out loud? I am talking about bringing a precious baby, who needs a family, into our home, and I am only thinking of how it will impact me. But I'm just being honest with you on my thoughts. No sugar coating it here.
And then there's the money.
They are telling us it is around $40,000 to adopt domestically. I'd be lying if I didn't admit that the cost doesn't almost takes my breath away.  That doesn't really fit into the monthly budget.  I meal plan, buy in bulk and make my own meals just so we can save money each month.  To have this $40,000 "bill" sitting there makes me think, what in the world do I do with this? Seriously, that is going to take a lot of saving. A lot. Like a WHOLE lot. You get the picture.
You know what is incredibly wrong with this picture? I am letting the Enemy mold my thoughts. I am letting him win by instilling fear into my heart, mind and soul.  I know without a doubt that adoption is what we are being called to do.  It's in both Bradford & my heart.  We want to do it.  I am so excited to have a new baby in this house to love and snuggle, and have quiet time rocking while watching the joy on my kids' faces as they play with a cute little bundle. And watching my husband with a baby… well, it absolutely melts me.
Listening to me confess all my fears above, you would never know there is any excitement in me. For a long time, I allowed the enemy to steal my joy. He didn't do it without my permission. I allowed him to creep into my heart, and I gently pushed God aside, telling Him he wasn't big enough for this job. A job He called us to.
Putting that down in writing just makes me wince. Seriously, I did that? Yep.
It is in these moments that I am so incredibly humbled that even in my rejection of Him, He is still here right beside me.  He continues to pursue me, calling me back to trust in him. He's telling me that I don't need to be afraid of anything. He has already written the story – our story – it is done. It will be.
It all came full circle for me in my quiet time this morning.  The realization that I was not enjoying this wonderful process. I had let fear set in and take root in my heart.
He persevered because he saw him who is invisible. ~Hebrews 11:27
I learned three things from this verse (thanks to a little interpretation from Whispers of Hope!):
My faith must rest on God's identity, not His activity.
My faith must be built on WHO God is, not WHAT God has done.
When I don't have a clue what God is doing, I can find stability in Who He is.
So I made a decision. I am done believing the lie that this stage in our life is going to be impossible. I choose to believe in the character of my God. I choose to rely on His Holy Word, His Truth, and His Promises. I will believe in things that are unseen, remembering all the times He has carried us through. I choose to rest in Him.
I am happy to say, I am ECSTATIC for our next step! I am absolutely dreaming of a sweet little baby to add to our family.  Our next child to cuddle, love on and care for every minute of every day. The fullness of it almost takes my breath away. I am excited to see what motherhood is like this time around with just a little more wisdom. I can't wait to parent, starting with a completely different perspective and appreciation for how incredibly short my time is with these sweet little people.
What's our next step?  Submitting our home study! Updates will be coming soon.