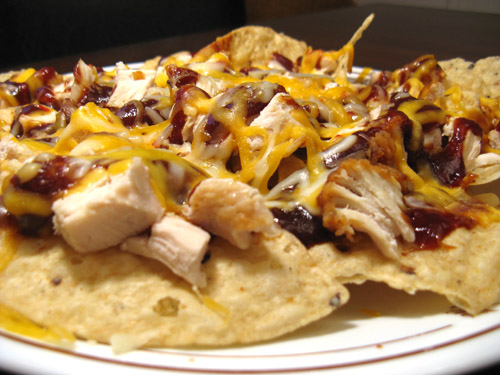 BBQ Chicken Nachos are a delicious spin on traditional nachos and my own Black Bean Nachos. I normally use leftover chicken from my Roasted Chicken Recipe (also known as Roast Sticky Chicken) as the base for this dish. It's one of Bradford's favorites.
*Scroll down to use print recipe feature and add to your Recipe Box.
These BBQ Chicken Nachos are perfect for any time you are craving something crunchy, cheesy, and satisfying. Try any of these additional toppings:
Jalapenos
Sour cream
Frank's Hot Sauce
Diced tomatoes
Avocados
Cilantro
Ooh–these are so good! And they are so simple to make, especially when you re-purpose your leftovers. Cook once, eat twice? I'm in!
BBQ Chicken Nachos
Ingredients
1-2 cups chicken, shredded
¼ cup BBQ sauce
1-2 cups shredded cheese
1 can black beans, drained and rinsed
1 bag tortilla chips
Instructions
Preheat oven to 350 degrees.
Toss chicken and BBQ sauce in small bowl.
Lay nachos on a lined baking sheet, in a single layer.
First top with chicken and BBQ mixture, then beans, and top with cheese.
Warm for 5-6 minutes or until cheese is melted.
Serve with your favorite toppings. (Mine are: jalapenos, sour cream, Frank's Hot Sauce, diced tomatoes, avocados and cilantro) Load it up!
Love spicy flavors? You might also like these:
Photo Credit: The Zesty Cook
Recipe developed by Kelly Hancock ©2010 Faithful Provisions. For personal use only. May not be reproduced, reprinted or distributed for capital gain without prior permission from Kelly Hancock.