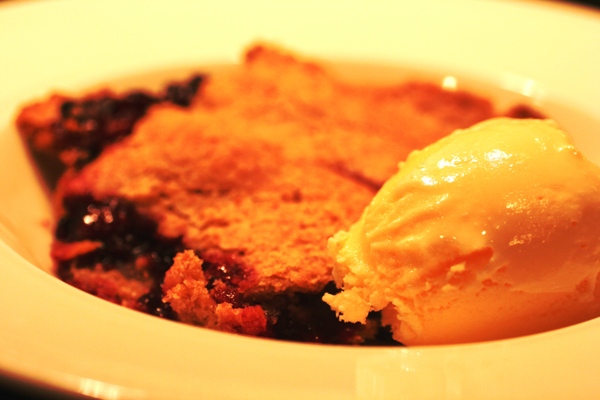 Blackberry Pie is the first thing I want to make when blackberries go on sale. I buy blackberries once I see them hit around $.99 – $1.50 per 6 oz package.
This Blackberry Pie recipe is very easy. The hardest part is the homemade crust, and it is fairly simple.  This crust is more of a crumble – tasking a little crunchy and crispy, less flaky. So, if you are looking for a flakier type of crust, here are two options:
Substitute half of the whole wheat flour for white flour.
Use a store bought crust.
If you like your pie to be more soupy, to have more juice, you can omit the flour in the filling mixture. Adding the flour makes it thicker.
Blackberry Pie with Homemade Whole Wheat Pie Crust
Pie Filling:
1 lb blackberries,washed
1/3 cup sugar (I used turbinado)
2 teaspoons flour
Crust:
2 cups whole wheat flour (or 1 cup white, 1 cup wheat)
2/3 cup butter (or shortening), very cold
1 teaspoon salt
4-8 tablespoons cold water
** Go here for some great tips to making the perfect pie crust.
Combine blackberries, flour and sugar, set aside.
In a large mixing bowl, combine flour and salt. Slice butter into 1 inch cubes and place into flour mixture.
Using a pastry blender, cut in the butter until it is in little pieces as above. Then add cold water, starting with 4 tablespoons, and adding a tablespoon at a time until the ball sticks together.
Place the dough ball into the freezer for 15 minutes.
Remove dough and place between two pieces of plastic wrap or wax paper. Roll out to fit your pan size.
I used a 10×6 pan, as pictured here.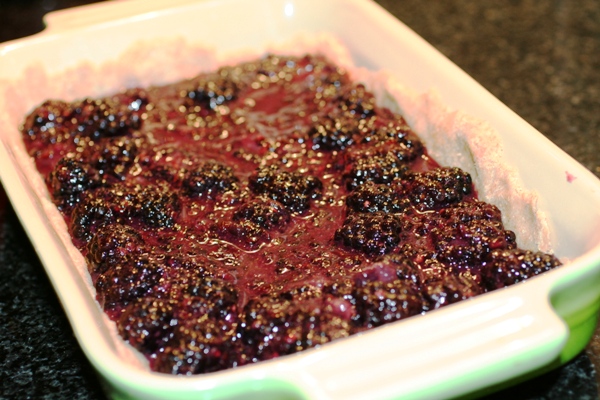 Cut the dough in half and place half on bottom, fill with blackberry mixture, and top with other half of crust.
Bake in 400 degree oven for 35-45 minutes.
Print Recipe: Click on the green "print friendly" icon at the bottom of this post, and check "remove images" for a printable version.
Recipe developed by Kelly Hancock ©2010 Faithful Provisions. For personal use only. May not be reproduced, reprinted or distributed for capital gain without prior permission from Kelly Hancock.