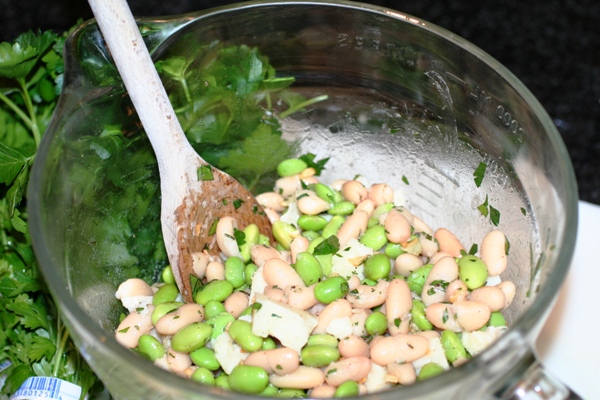 I love this recipe! It is so simple, with easy ingredients and it can be made ahead and refrigerated.  Plus it is light, fresh and packed with nutrients.
*Scroll down to use print recipe feature and add to your Recipe Box.
The original version adapted from Giada de Laurentiis, has pecorino cheese (similar to Parmesan), which can get a bit pricey.  So, I substitute it with what I have on hand, which is either goat cheese (a great dairy free option) or feta cheese. Either of the three cheeses is great with this, or you could leave them all out.
This would make a perfect picnic item. It actually gets even better the longer it marinates.
Green and White Bean Salad
Ingredients
2 tablespoons extra-virgin olive oil
2 garlic cloves, minced
2 teaspoons fresh rosemary leaves, finely chopped
2 cups shelled edamame beans
1 (15-ounce) can cannellini beans, drained and rinsed
5 ounces goat or feta cheese
¼ cup chopped fresh flat-leaf parsley
¼ teaspoon kosher salt
¼ teaspoon ground black pepper
Instructions
In a small skillet, heat the oil over medium-low heat. Add the garlic and cook about 30 seconds, until fragrant (don't brown it). Remove the pan from the heat and stir in the rosemary. Set aside and let cool.
Combine the beans, cheese, parsley, salt and pepper in a serving bowl. Add the oil and garlic mixture and toss well until all the ingredients are coated.
Serve room temperature or chilled.
recipe adapted from Food Network
Recipe developed by Kelly Hancock ©2010 Faithful Provisions. For personal use only. May not be reproduced, reprinted or distributed for capital gain without prior permission from Kelly Hancock.