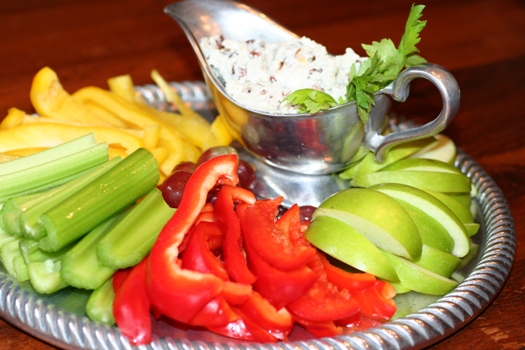 My sister in law brought this Pecan Blue Cheese Dip appetizer last year for our Christmas Day feast, and it has now become our annual treat. When she laid it out with grapes and apples, I was not really excited.  But once I tried it, I almost ate the entire bowl all by myself.  This year she tripled the recipe, plenty for leftovers. I still have a tub of it, ready for me after this post.
Even if you are not a huge blue cheese fan, the cream cheese mellows the blue cheese and the pecans give it a sweetness that is really nice. I absolutely love this dip with green apples and red grapes, those are my favorite dippers.  Honestly a few times I just grabbed a spoon and went to town! But, you can dip almost anything in this Pecan Blue Cheese Dip, my favorites are:
green apples
grapes
red, yellow or orange peppers
celery
carrots
broccoli
pretzels or crackers
Blue Cheese Dip with Pecans
recipe adapted from epicurious
Ingredients
1 8-ounce package cream cheese, room temperature
2+ cups purchased refrigerated blue cheese dressing (Marzetti's is our favorite)
1½ cups chopped pecans
½ cup crumbled blue cheese (about 4 ounces)
Instructions
Combine all ingredients and serve with fruits, vegetables or crackers. Refrigerate and chill before serving.