If you are looking for the plan God has for you, to follow it and try to find a way to figure it out, Follow Me by David Platt is a must-read.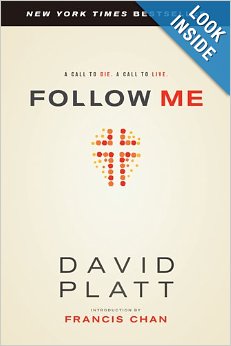 I absolutely love how simple David Platt makes the Gospel message. We are to go and make disciples. There, that is it. That is why we are here. THAT is what God wants us to do. If we want to know what God has planned for our lives, we already know. But the question is, are we going to live it out in faith.
I read a lot of Christian non-fiction. A lot. Many make me feel good and fuzzy inside, but this book made me very uncomfortable. But isn't that what God calls us to? To get out of our comfort zone. I can read and read and read, but if I don't "do," it doesn't matter. Knowledge does not equal transformation. Instead of feeling condemned and guilty, the message here made me feel empowered and excited for what I am really here to do. If I have learned anything in my walk of faith, I have learned that the Lord's voice is not one of guilt. His desire is that we will follow him passionately.
Have you read a book lately that made you feel passionate about living out the Gospel? If so, please share it. Have you read Follow Me by David Platt? I'd love to hear what you thought!
Looking for more reading ideas? Check out all my book lists and reviews.