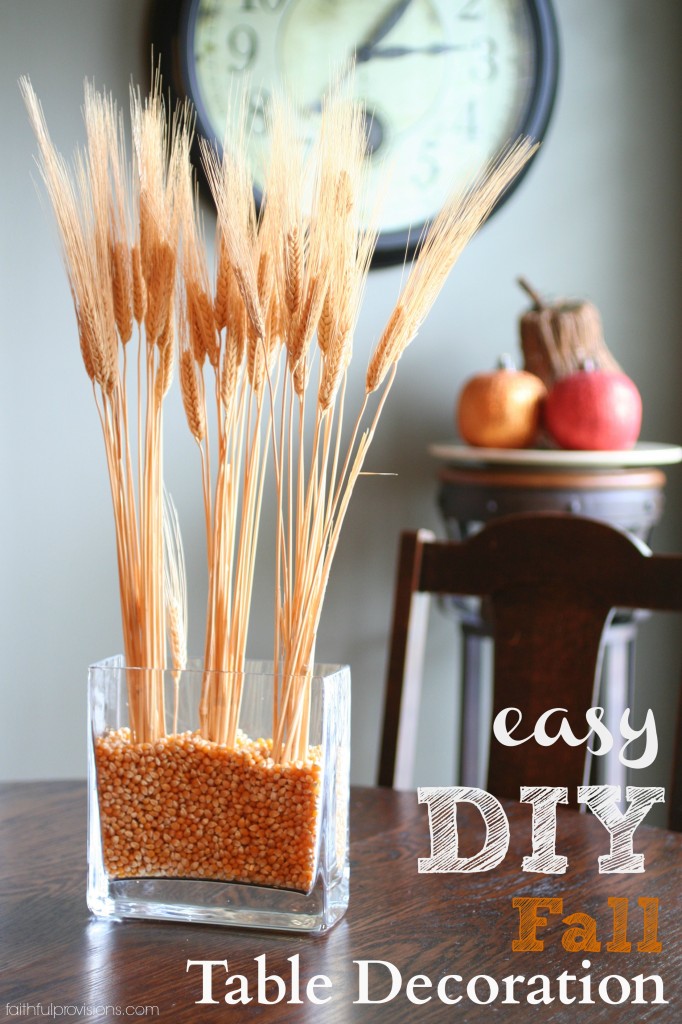 If you have been reading here long, you know I restrict my expertise to saving money mostly in the kitchen. However, this is a fall table decoration I have been using for years and after moving into our new house, it just looks better here! The kids beg me to bring it out each year and then they help me figure out here to put it. This year we opted for our kitchen table and I love how it turned out.
How to Make a Fall Table Decoration
You only need three items to make this super-simple fall decoration:
A glass vase (one like this glass square vase under $10 is perfect!)
Bag of popcorn kernels
Wheat Stalks (similar to this wheat bunch, but they are cheaper at the craft stores)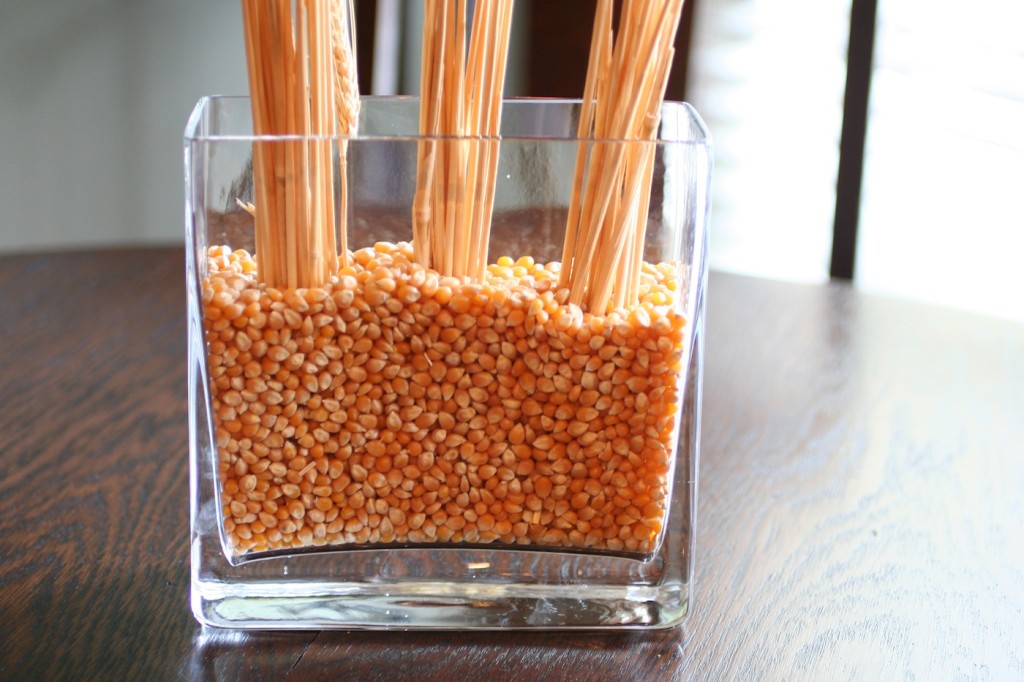 The total to make this should cost under $5 of so, as long as you have a vase around that you can use. If you haven't figure it out already by looking at the picture, all you do is pour popcorn into a glass vase! I highly recommend using an odd shape to give it a little character. I used a rectangle one we have had for  years, but I think I got it from Pottery Barn. Then depending on the length, height and width, set clumps of stalks of wheat into the corn kernels. And…you're done. Simple, right?
Where to Find the Supplies
Wheat Stalks. I found the wheat stalks at my local craft store for under $4 or so. Download the iPhone app for any of the craft stores (Joann's, Michael's or Hobby Lobby), and you will be able to use the 40-50% off one item coupon to get them pretty cheap. I preferred the plain wheat color stalks, but you could even add a pop of color. I have another set of wheat that has dark brown in the wheat bunches and I tied it with a dark brown grosgrain ribbon.
Popcorn. I just use a cheap bag of popcorn kernels, which usually cost about $1.25 a bag at Walmart.
Glass Vase. Honestly, don't go out and spend a lot on a pretty vase. You can either use one you have on hand, or head over to your local thrift shop to see what they have. Usually I find lots of pretty glass vases there for $1 or less.
Simple. Now it's your turn!
Do you have a favorite fall decoration that you like to make? Please share it with us in the comments. I am always looking for more easy and eclectic ways to decorate during the holidays!
If you liked this post be sure to check out these: