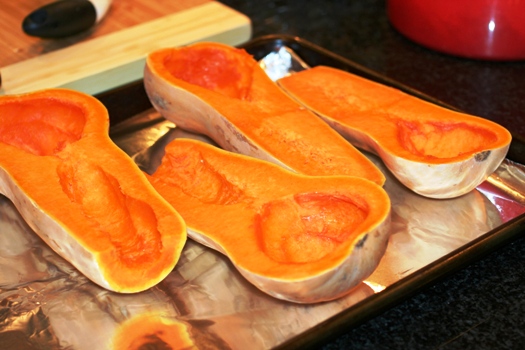 Butternut squash has a nutty taste that is similar to pumpkin, but it is a little bit different. Butternut squash is sweeter. I will admit that I do think butternut squash is difficult to work with. It's really hard to cut, so rather than cut it and peel it with a knife, I recommend that you use a vegetable peeler. In spite of its difficulty, once you have tried a few recipes with butternut squash, or just served it roasted, you will agree that any extra time and effort on your part is absolutely worth it! It is unbelievably good.
Be sure to check out this video I made showing you how I prepare butternut squash, using these simple steps:
Cut in half length-wise from stem to stem.
Take a melon scooper or a sharp spoon to clean out the guts, like you would a pumpkin or a cantaloupe. It is a bit trickier however, in that the guts of a butternut squash are a little more stubborn.
Now there are two ways you can go from this point. You can:
Cut it up into pieces and flash freeze it to use later. Or you can
Cut it into quarters and roast it. Roasted butternut squash is delicious with a side of roasted chicken. Or puree the roasted butternut squash and use it as a sauce, or even as a baby food. (This is also a great vegetable puree to use if you want to sneak it into other foods.)
Here are my favorite recipes for butternut squash:
Butternut Squash Soup. I serve this at Thanksgiving every year. It's very easy to make and it tastes amazing. Bradford loves this. When he hears me talking about butternut squash, he will always say, "When are you going to make that soup again?" It's a crowd-pleaser!
Roasted Butternut Squash with Vegetables. I like to roast butternut squash with other vegetables, like onions, sweet potatoes, turnips, and parsnips, and have it as a side dish.
Pasta with Shrimp and Butternut Squash. This is an absolute favorite–one of the reasons I stock up on butternut squash every year!
You can find all of my Butternut Squash Recipes HERE. Please share your recipes for butternut squash below.
============================
Have a recipe you would like to share either on your blog or elsewhere? If so, post the link below so that all the Faithful Provisions readers can easily find it. Be sure to make it easy to navigate by linking directly to your recipe post. Links going to the homepage of your blog or any other part of your blog besides the direct link to a recipe will be deleted. Posts promoting affiliate and referral links will be deleted.
Tip: Post the recipe name you are linking to in the link title. For example, Beef Wellington. Also, be sure to pick the matching image, it makes it so much easier to visually find the recipe you are looking for!