I am taking the plunge this year. Yes, I am going to officially try out canning. Last week I purchased two cases of Ball pint jars on sale at Kroger for around $6.50/case (see my post on it here)!  Now, I just need to get up some courage and gather some award winning (just kidding, but your favorites would be great!) recipes for salsa (mild to medium) and spicy dill pickles. Please submit your favorites below or email them to me. I am in desperate need of some good canning recipes! You can leave them below in the comments or email me at kelly (at) faithfulprovisions (dot) com
My sweet Grandmother Kelly (yes I am named after her!) had the BEST spicy dill pickles, and unfortunately no one in my family has her recipe. I have to say I am extremely sad. I absolutely loved her pickles. But I'm hoping one of you has one to share.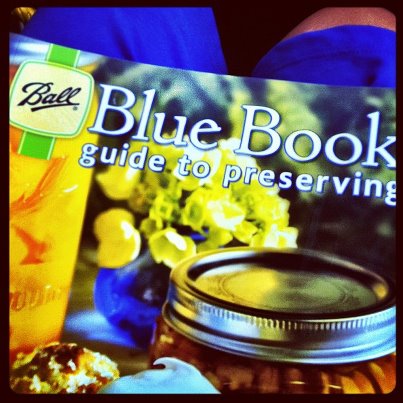 This was my weekend leisure reading, Ball Blue Book of Canning, and it was quite interesting. I grabbed my book at Walmart for about $7. But I have to say I am a bit intimidated. Hoping I don't make my family sick with my little experiment.
I asked my Facebook readers for their tips HERE.
Have you ever canned before? Any tips, recipes or tricks I should know about? Please leave me a comment, oh and pray for me!