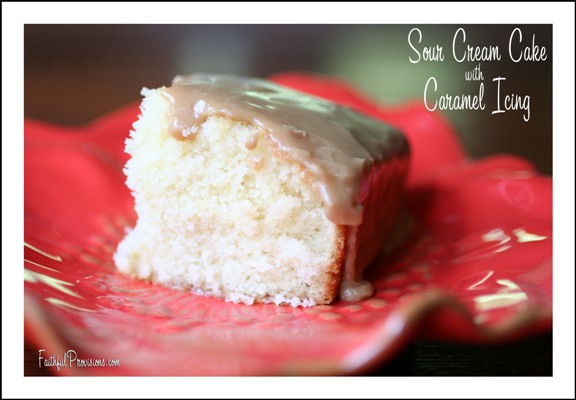 This recipe for Sour Cream Cake with Caramel Icing has been in my family for years, but had a little different name, I like this one better! It's another one of my special occasion cake recipes, and this time, I made it for my father's 65th birthday dinner. Needless to say, it was a huge hit.
*Scroll down to use print recipe feature and add to your Recipe Box.
I don't know which is the best part: the cake itself or the caramel icing. There was actually a debate around the table. On one side, you had the pro-cake people. (Surprisingly, they were mostly the kids!) The cake is made with sour cream, so it's rich and moist. It's not quite as dense as a pound cake, but it has a great texture. (All cakes should taste like this!)
Easy Caramel Icing
This is such an easy caramel icing to make. The pro-icing people were mostly the adults, and I think that's because of its sophisticated flavor,  a rich molasses flavor.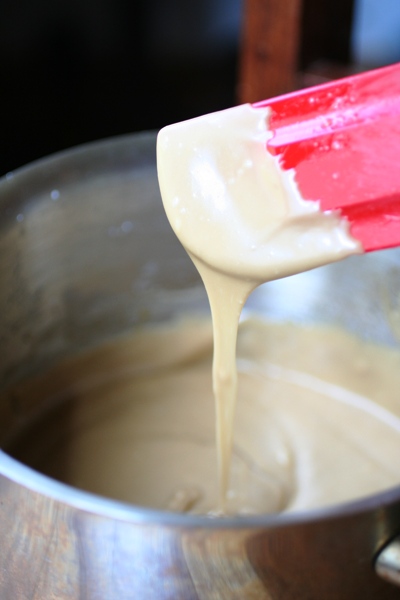 This is a confectioner's icing, just a little thicker than a glaze. Basically, you are making caramel (combining butter and brown sugar), then you add in confectioner's sugar to thicken it into an icing. The result is a strong, sassy taste with hints of a molasses-style flavor.
Now, I'll warn you–this cake is not for the faint of heart or those who are trying to watch their waistline. Between the cake and the icing, this cake has three sticks of butter and four cups of sugar. I know, I know–there is nothing remotely "healthy" about this cake, but this is a treat, right? For special occasions only! We just have this a only few times each year.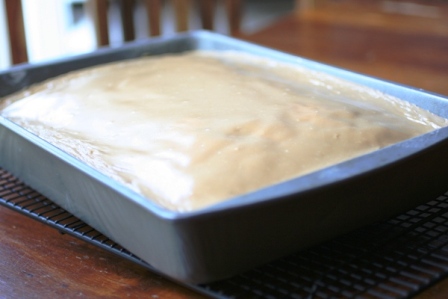 I love the simplicity of creating a sheet cake that has that Wow! factor. What could be easier? This is so good! It's truly fabulous. There are never many leftovers for long…

Sour Cream Cake with Caramel Icing
Ingredients
For Cake:
8 ounce carton sour cream
¼ cup milk
2 sticks butter, softened (1 cup)
2 cups white sugar
4 eggs
2¾ cups all-purpose flour, sifted
2 teaspoons baking powder
½ teaspoon salt
1 teaspoon vanilla extract
For Caramel Icing:
1 stick butter (1/2 cup)
1 cup brown sugar, firmly packed
¼ cup milk
2 cups confectioner's sugar, sifted
Instructions
For Cake:
Preheat oven to 350 degrees.
Combine sour cream and milk; set aside.
Using a mixer, cream butter, gradually adding sugar and beating well at medium speed. Add egs, one at a time, beating well after each addition.
In a separate bowl, combine flour, baking powder and salt; add to creamed mixture alternating with the sour cream mixture, beginning and ending with flour. Mix after each addition. Stir in vanilla.
Pour into a greased (I use butter covers to grease pie pan) and floured 9x13 cake pan. Bake for 30-35 minutes.
For Icing:
Melt butter; stir in brown sugar. Heat to a boil and lower heat and stir for two minutes. Add milk and stir constantly until boiling again. Cool to lukewarm.
Once cool, gradually add powdered sugar to desired consistency. Add hot water if icing becomes too thick, a tablespoon at a time until it is how you like.
Recipe developed by Kelly Hancock ©2010 Faithful Provisions. For personal use only. May not be reproduced, reprinted or distributed for capital gain without prior permission from Kelly Hancock.