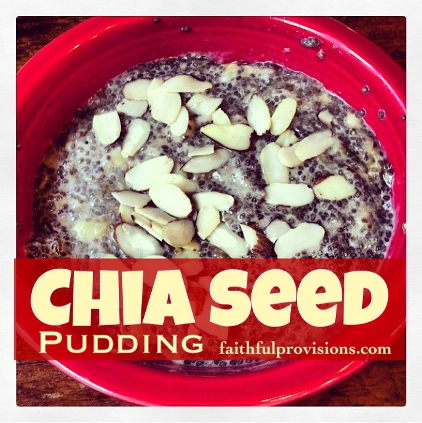 This Chia Seed Pudding Recipe* is a super simple, healthy, and great tasting pudding that you can make for breakfast or enjoy as a snack any time. This is so easy, but requires a little planning in that it is going to taste best when it's made ahead. In fact, I suggest you keep a bowl in the fridge so you have it available when you want a healthy snack.
*Scroll down to use print recipe feature and add to your Recipe Box.
Chia seeds are on the forefront of clean eating. I'm hearing lots of people talking about them, and let me tell you, what I've heard is true! Honestly, I've noticed a big difference in my personal endurance since I've been incorporating them in my own eating. I add chia seeds to oatmeal, salads, smoothies, and more. When they are dry, chia seeds are kind of similar to poppy seeds. When you soak them, they plump up, and I would describe them as sort of like tapioca, sweet and soft on the outside, with a crunchy-type of center.
::Learn more about this super food and the benefits of Chia Seeds HERE.
Adapt this Chia Seed Pudding with your own add-ins to suit your tastes. (This recipe is gluten-free. You can keep it dairy-free depending on what you choose as your add-in options.)
Cocoa powder (1/4 – 1/2 teaspoon)
Almonds
Walnuts
Pecans
Flaxseed
Fresh Coconut
Craisins
Raisins
Chocolate Chips (for the kids!)
Chia Seed Pudding Recipe
Ingredients
One ripe banana, mashed
2 tablespoons chia seeds
Dash of vanilla
Half cup milk (Make this recipe dairy-free by using Almond or Coconut Milk)
Instructions
Combine ingredients, cover, and refrigerate
Sweet with a drizzle of honey according to taste. If your banana was very ripe, you won't need any additional sweetener.
Add your favorite toppings: Cocoa powder (1/4 - ½ teaspoon), Almonds, Walnuts, Pecans, Flaxseed, Fresh Coconut, Craisins, Raisins, Chocolate Chips
More Chia Recipes:
Add Chia Seeds to any of these recipes: