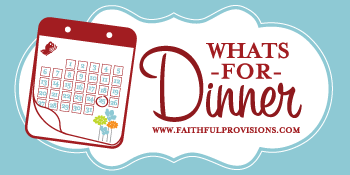 Tonight's Dinner Idea is my tangy Chili Pot Roast with mashed potatoes. (My recipe includes adding cream cheese–enjoy!)  Include a salad or a simple vegetable like my Green Beans to complete your meal.
With the leftovers from this roast, I'll be able to create several different Mexican-inspired meals, like Fajita bowls for an easy Friday night dinner tomorrow night.
Need a little inspiration? Check out my Recipe Box which is updated daily with new recipes!
=================================
Wondering what to make for dinner tonight? You'll love my money-saving recipes on what to cook for dinner! You are encouraged to not only list your dinner plans, but to request ideas and add your favorite recipes!