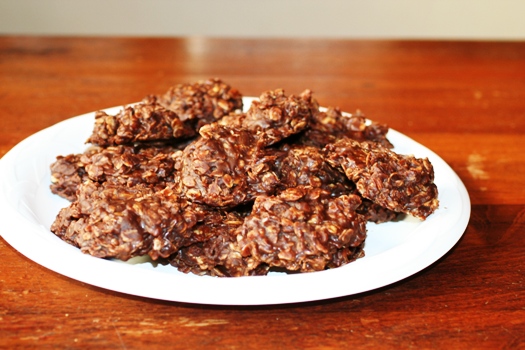 Pretty much everyone has a version of this recipe, so I thought I would add mine here.  I grew up making these and they are a great recipe to make with your kids.
*Scroll down to use print recipe feature and add to your Recipe Box.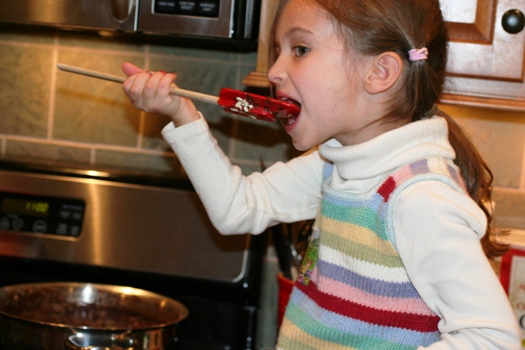 My daughter did most of the measuring and stirring and I just handled the hot pans and molded the cookies. Oh, and most of the tasting!
The key to these cookies is in the amount of time you cook the sauce mixture.  You have to cook it long enough to melt the sugar crystals, if not, instead of being creamy it will be more gritty and kind of dry tasting.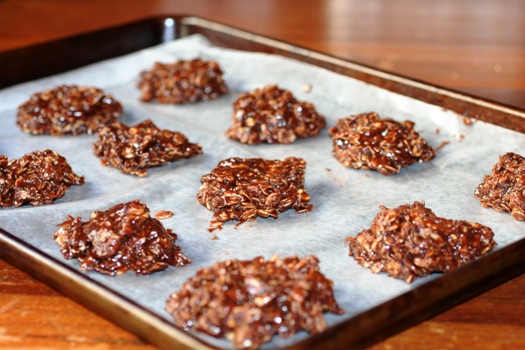 Also, make sure you have quick-cooking oats, versus old fashioned or instant.  Using a different type of oats will change the consistency of the cookies.
Chocolate Peanut Butter No-Bake Cookies
Ingredients
1½ cups sugar
½ cup cocoa
1 pinch salt
½ cup milk
½ cup butter
1 tablespoon vanilla (optional)
1 cup peanut butter
3 cups quick-cooking oats
Instructions
In a large saucepan combine sugar and cocoa and mix thoroughly, then add milk, salt, and butter.
Mix and bring to a full boil that can't be stirred down for 1 minute.
Remove from heat.
Add peanut butter and vanilla, stir until smooth.
Add oatmeal and mix well.
Let sit for about 5-10 minutes so oatmeal absorbs the sauce.
Drop oatmeal mixture by spoonfuls onto waxed paper lined baking sheets.
Let cool at room temperature. This makes about 20-30 cookies.