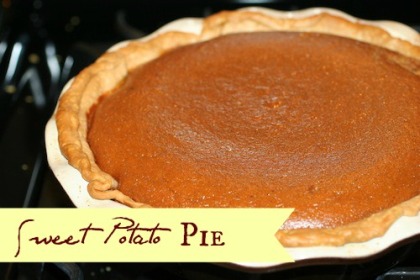 I have to say I don't think I had ever had a recipe for sweet potato pie until last year at my friend Robyn's. Now that I've tried hers, I don't think I can go back to pumpkin ever again (well, maybe…).
*Scroll down to use print recipe feature and add to your Recipe Box.
I knew you would want to try it to, so Robyn has allowed me to share it. I changed a few things to fit our taste, but it is amazing.  I just got back from Aldi and sweet potatoes are only $.75 for a 3 lb bag!  This perfect for whenever you see a big sale on sweet potatoes. This pie freezes really well and tastes wonderful room temp or warm.
Sweet Potato Pie
Ingredients
3 sweet potatoes, boiled or steamed until soft
1 stick butter, melted
Dash of salt
⅓ cup orange juice
1 tablespoon pumpkin pie spice
1¾ cup sugar
6 eggs, beaten
1 can evaporated milk
2 teaspoons vanilla
Instructions
Mash sweet potatoes in a large bowl and add butter and salt.
Mix with a blender until mashed completely.
Add sugar, orange juice, pumpkin spice, and eggs.
Add evaporated milk and vanilla.
Pour into two pie shells and sprinkle with nutmeg.
Cook at 350 degrees for 30-40 minutes.
Love sweet potatoes? Then you might like these recipes too!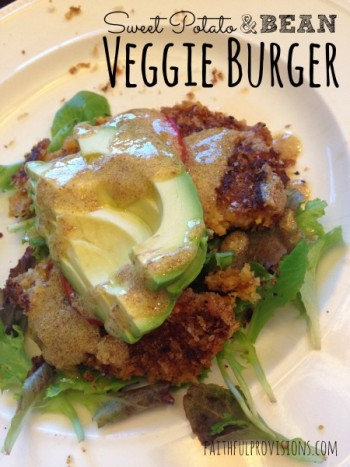 Sweet Potato White Bean Veggie Burger