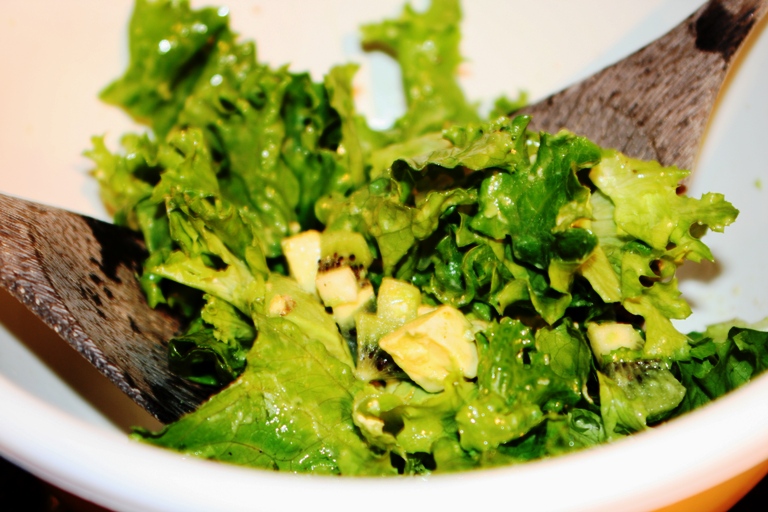 This salad is simple and you can substitute in any ingredient.  I like to keep all the ingredients "green" to make it very earthy and fresh! I added fresh kiwis to this one, but you could add color like radishes to really make it a beautiful table piece.
This one is for you Mercedes!
Chopped Green Salad with Chive Vinaigrette
Ingredients
Chopped Green Salad
1 head of lettuce, Boston, bibb, red or green leaf lettuces, coarsely chopped (approx. 5-6 cups)
2 celery stalks, chopped (include celery heart leaves)
2-4 tablespoons chives, cut into 1 inch pieces
1 cucumber, chopped (I like English cucumbers here)
1 avocado, peeled, cored and chopped (see my tutorial on how to prepare an avocado)
Chive Vinaigrette
¼ cup chives, minces
2 tablespoons white wine vinegar
1 tablespoon dijon mustard
1 tablespoon water
2 teaspoons honey (or 1½ teaspoon blue agave nectar)
Kosher salt and fresh ground black pepper
4 teaspoons extra-virgin olive oil
Instructions
Salad
Combine all ingredients and drizzle with Chive Vinaigrette.
Toss to coat and season with salt and pepper.
Vinaigrette
In a small bowl, whisk together all ingredients except oil. Slowly add the oil, whisking vigorously, until the vinaigrette is emulsified (well blended).
Vinaigrette will keep well in the refrigerator for up to 2 days. If you add fresh chives to small amounts of the dressing right before you use it, the dressing base will last longer.
Recipe developed by Kelly Hancock ©2010 Faithful Provisions. For personal use only. May not be reproduced, reprinted or distributed for capital gain without prior permission from Kelly Hancock.