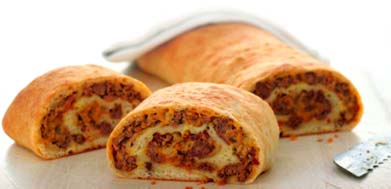 These Bacon Cheeseburger Roll-Ups were a hit with the kids, and it was a really easy recipe. I used ground beef left over from the Lettuce Cups we had recently. Added to that, I had a little Velveeta on hand and plenty of Pillsbury dough products to make this. We ate half and froze the rest for a leftover lunch one day. This is a great burger recipe that the kids can help you make. Thanks Kraft for this ground beef recipe!
*Scroll down to use print recipe feature and add to your Recipe Box.
Be creative when you approach a recipe. You might not have everything you need according to what is called for, but you might have exactly what you need to come up with something that suits your family. I made a few modifications in this recipe.
I substituted the pizza crust dough, which I didn't have, for crescent rolls.
I skipped the bacon. If you have some, great–but if you don't have any on hand, don't let that stop you. These were still delicious!
Healthy alternatives:
Stir in some pureed veggies like butternut squash, with the ground beef mixture.
Use a real Swiss or cheddar cheese instead of Velveeta.
Opt for ground turkey instead of ground beef.
Bacon Cheeseburger Roll-Up
Ingredients
1pound lean ground beef
4 slices OSCAR MAYER Bacon, chopped
1 small onion, chopped
½ pound (8 oz.) VELVEETA Pasteurized Prepared Cheese Product, cut into ½-inch cubes
1 package (13.8 oz.) refrigerated pizza crust
Instructions
Heat oven to 400°F.
Brown ground beef with bacon and onions in large skillet on medium-high heat; drain. Return meat mixture to skillet.
Add VELVEETA; cook until melted, stirring frequently. Cool 10 minutes.
Unroll pizza dough onto baking sheet sprayed with cooking spray. Press into 15×8-inch rectangle; top with meat mixture.
Roll up, starting at one of the long sides. Rearrange if necessary so roll is seam-side down.
Bake 20 to 25 minutes or until golden brown.
Find more Beef and Burger Recipes in my Recipe Box!