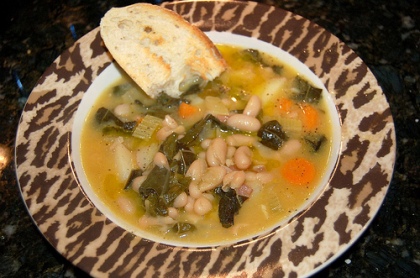 Tonight's dinner is this wonderful Tuscan Bean Soup in a recipe adapted from one I found on The Food Network. We have bought into a local organic farm, so I am trying to find ways to use our kale, and this recipe incorporates kale with beans and other vegetables I love. Kale is something that I had never eaten before we became part of our CSA. If you've never tried it, give it a chance. It is one of the best heart-healthy foods you will find.
*Scroll down to use print recipe feature and add to your Recipe Box.
This recipe for Tuscan Bean soup has three key elements to making it a winner for my family:
It's inexpensive.
It's super healthy.
It tastes wonderful!
I made a loaf of whole wheat bread in the breadmaker to go with this and it was a nice addition to the meal!
~~~~~~~~~~~~~~~~~~~~~~~~~~~~~~~~~~~~~~~~~~~~~~~~~~~~~~~~~~
My Modifications
Beans: I just used what I had on-hand, 1 can cannellini and 1 can chickpeas, but you could use 2 cans of any white bean (kidney, northern, cannellini), use whatever you have.
Pancetta: This is an italian type of bacon, so you can substitute w/ ham or bacon. Or you can omit entirely!
Veggies: You can omit the celery and carrots and just use onions, it is just healthier w/ the veggies.
Garlic: Substitute jarred minced garlic, about 2-4 tsp.
Tomatoes: You can leave out, or even substitute w/ roasted red peppers
Fresh Herbs: There are 2 modifications you can do here; use fresh herbs loose and just pull out before you add kale, or can use dried, I would do about 1-2 tsp of each. You can also omit red chili flakes if you don't want the heat, but adds a nice kick!
Leftovers: Day 2 pour it over any kind of pasta, or mash the beans and put it on crostini (or just toast little pieces of bread).
Tuscan Bean Soup
Ingredients
1 (14-ounce) can kidney beans, drained and rinsed
1 (14-ounce) can cannellini beans, drained and rinsed (Use whatever white beans you have on hand.)
3 tablespoons olive oil, plus more for drizzling on bread
½ pound diced pancetta (or bacon or ham. Leave out entirely for a meatless meal!)
2 cups diced yellow onions
1 cup diced celery (optional)
1 cup diced carrots (optional)
4 cloves garlic, sliced
Salt and freshly ground black pepper
1 (14-ounce) can diced tomatoes
1 (14-ounce) can chick peas, drained and rinsed
2 quarts chicken stock, plus extra water if needed
2 sprigs rosemary
3 sprigs thyme
1 sprig oregano
1 bay leaf
1 teaspoon red chili flakes (optional)
2 heads kale, stems removed and cut into bite size pieces
Parmigiano-Reggiano, grated, for serving
Instructions
In a large soup pot, heat the olive oil over medium heat.
Add the pancetta, rendering the fat and cooking until slightly crispy about 3 minutes.
Saute the onion, celery, carrot and garlic for 3 to 4 minutes.
Season with salt and freshly ground black pepper, to taste.
Add the diced tomatoes, the cooked and drained kidney beans, cannellini beans, chick peas, and the chicken stock.
Using kitchen twine, tie the herbs and the bay leaf into a bundle and add to the pot.
Season with the red chili flakes, salt, and pepper.
Cook for 15 to 20 minutes, then add the kale.
Continue cooking until the kale is completely tender and wilted.
Serve the soup in large bowls with grated Parmesan.
Adapted from Food Network.
Photo Source