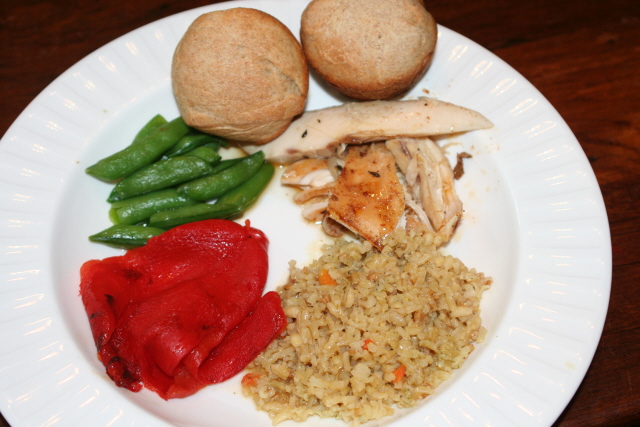 I have adapted my Roasted Sticky Chicken recipe for the crock pot!  This was not very hard to do. In fact, putting it in the crock pot was actually easier than roasting it in the oven, except that I can only do one chicken at a time this way.  You'll need to know your crock pot and how it cooks. It took mine just around 4 hours to cook the whole chicken, but mine cooks really high. I suggest planning for around 4-6 hours if you are roasting your chicken in the crock pot.
Even though I can't do two chickens at a time this way, this method allows me to very easily make my recipe for homemade chicken stock afterwards.  I just left all the fat and the carcass in the pot. Then I added about 12 cups of water and threw a few chopped veggies (celery, onion and carrots) in.  I turned it on high for about 3 hours.
Voila, very little clean up!!
This was such an inexpensive meal for us:
4.75 lb whole chicken (@ $.59/lb = $2.60)
Sugar snap peas (FREE in freezer)
Red pepper ($.88/ea at Kroger last week)
Roast chicken rice ($.25 Uncle Ben's Box)
Whole wheat rolls (homemade)
Crockpot Sticky Chicken
Ingredients
4 teaspoons salt
2 teaspoons paprika
1 teaspoon cayenne (red) pepper
1 teaspoon onion powder
1 teaspoon thyme
1 teaspoon white pepper (optional)
½ teaspoon garlic powder
½ teaspoon black pepper
1 large roasting chicken, 3-5 lbs
1 cup onion, chopped
Instructions
In a small bowl, combine all the spices.
Remove the giblets from chicken, clean the cavity well and pat dry with paper towels.
Rub the spice mixture onto the chicken, both inside and out, making sure it is evenly distributed and down deep into the skin.
Place in a resealable plastic bag, seal and refrigerate overnight.
Before roasting chicken, stuff cavity with onion, and place in greased crock pot.
Cook on low for 4-5 hours.
Chicken will literally fall off the bone. So good!
Recipe developed by Kelly Hancock ©2010 Faithful Provisions. For personal use only. May not be reproduced, reprinted or distributed for capital gain without prior permission from Kelly Hancock.