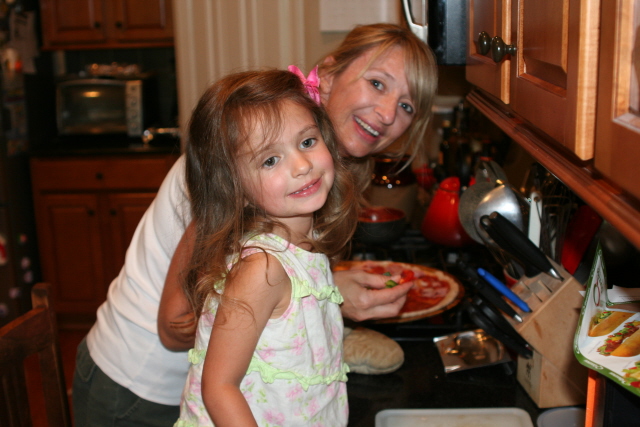 I love homemade pizza it is a fun kid-friendly meal and activity!  Obviously it involves me making homemade pizza dough and sauce.  So, I have looked everywhere for a good pizza dough recipe and below is my favorite so far.  I have tried ones for the bread maker and have settled on this one I knead by hand, and prefer this method.  I can get 2 thin pizza crusts out of this recipe.
Homemade Pizza Dough
Serves:
2 Thin Pizza Crusts
Ingredients
1 cup warm water (approx 110 degrees F)
2 tablespoon olive oil
1 cup whole wheat flour
1½ cups + 2 tablespoon white flour
1 packet or 1 tablespoon active yeast
1 teaspoon sugar
1 teaspoon salt
Instructions
Proof yeast (use water, sugar and yeast) in a separate measuring cup. **see proofing tips and pictures below
Combine all ingredients, minus flour into large mixing bowl, add yeast mixture.
Add flour and work in with a fork.
Once dough looks like the picture below, remove dough and place on floured surface. Knead and roll out with floured roller to fit onto pizza pan.
Bake at 400 degrees for about 15 minutes.
Note*:  If you use a pizza stone, be sure to preheat it in the oven so your pizza is nice and crispy.  Also, I roll out 2 crusts with this recipe.
I am a big fan of tangy pizza sauce, so the sweet ones don't do it for me, but you can try out my favorite Homemade (and Simple) Pizza Sauce to put on this pizza.
Proofing Yeast
One of my biggest issues with not putting my dough in the bread maker was dealing with yeast.  Let me tell you a little trick I learned.  You should always "proof" your yeast, even if you just bought it at the grocery.  This is to make sure that it is fresh enough to do what you need it for…rising your bread.
Checkout my post on How to Proof Yeast to make sure you always have a good batch before starting your pizza dough.
Anyone else have a favorite pizza dough or sauce recipe to share?