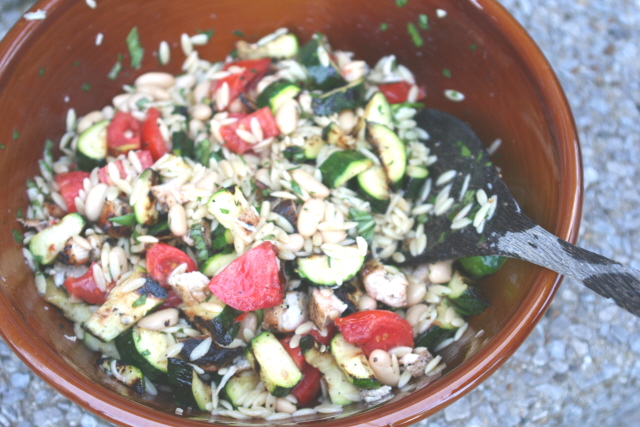 This was an original from Giada de Laurentiis on the Food Network, but hers has Calamari and Shrimp.  I opted to use grilled chicken tenders to cut the cost since I got them for less than $1/lb last week at Kroger! Almost everything I already had on hand except for a french baguette and some zucchini. I left out eggplant, and we really didn't miss it. Since our zucchini plants never produced even one this year, I had to go to the store.
I used one of my favorite dressings, Red Wine Vinaigrette, in another one of her dishes, Orzo Salad.  You can easily use this for your dressing here too, instead of the fresh lemons and olive oil as she suggested.  I just make a bunch of it and put it in the fridge for salads throughout the week.
Neapolitan Salad
Ingredients
4 cups chicken broth (from my freezer stock!)
½ pound orzo pasta (about 1 cup dry)
1 pound fresh chicken breasts, or tenders
2 zucchini, sliced lengthwise, about 1-inch wide
1 Japanese eggplant, sliced lengthwise, about 1-inch wide
2 Roma tomatoes, halved lengthwise
1 (15-ounce) can cannellini beans, drained and rinsed
3 ounces arugula (about 3 cups) (I used spring mix, or spinach would be great!)
¾ cups chopped fresh basil leaves
¼ cup chopped fresh flat-leaf parsley
2 lemons, juiced
⅔ cup extra-virgin olive oil
1½ teaspoons kosher salt
1½ teaspoons freshly ground black pepper
Instructions
In a large pot, bring the chicken broth to a boil over high heat.
Add the pasta and cook until tender but still firm to the bite, stirring occasionally, about 8 to 10 minutes. Drain pasta and place in a large bowl.
Meanwhile, place a grill pan over medium-high heat or preheat a gas or charcoal grill.
Drizzle the chicken, zucchini, eggplant, and tomatoes with olive oil and season with salt and pepper. Grill the chicken, just until cooked through, about 1 to 2 minutes a side.
Grill the zucchini and eggplant until tender, about 4 minutes a side.
Grill the tomatoes just until grill marks appear, about 2 minutes.
Add the orzo, cannellini beans, arugula (or salad mix/spinach), basil, and parsley to the bowl.
Cut the chicken into pieces.
Cut the zucchini, eggplant, and tomatoes into roughly about 1-inch cubes.
Add the vegetables to the bowl with the lemon juice, extra-virgin olive oil, salt and pepper.
Toss to combine.
Finally, add some salad mix, spinach or the arugula in the bottom of a bowl and top with pasta and veggie mixture, then serve.
TIP:  I don't include the salad until I serve it.  That way I can refrigerate the leftovers. It is even better the next day!
Try this with my Red Wine Vinaigrette–my favorite dressing!