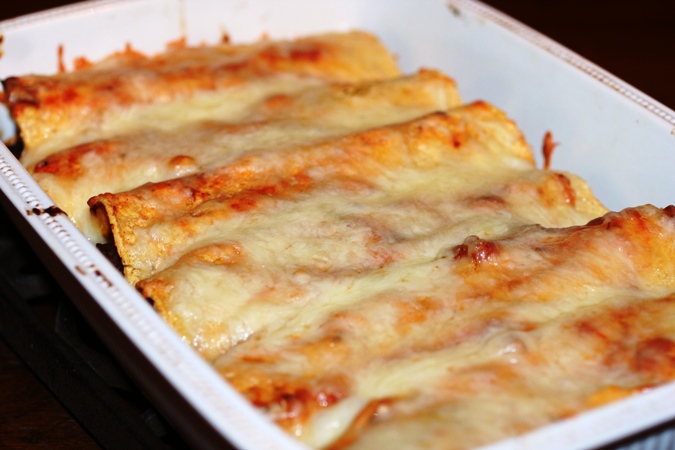 Don't you love it when you start experimenting in the kitchen, and you come up with a great new recipe? That's exactly what happened when I put this dish together. You know I love all foods with a Mexican flavor, like chicken enchiladas and black bean enchiladas, but since I had left over pot roast, I thought I would give beef enchiladas a try.
*Scroll down to use print recipe feature and add to your Recipe Box.
I never want to waste any food, but even a delicious pot roast can seem "same old, same old" when served two nights in a row. So, why not cook it once, but then morph it into a new meal so that the leftovers become something fresh and flavorful for your family?

Whether you are new to menu planning or a veteran, you'll find tips and tricks you can use for saving even more money in my new book, Saving Savvy. .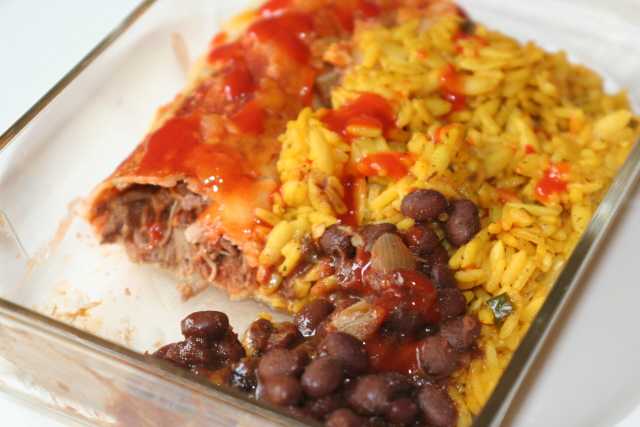 I served ours with Mexican rice (Knorr's packet), Spicy Black Beans, and a green garden salad with shredded carrots, diced tomatoes, and my homemade Taco Salad dressing.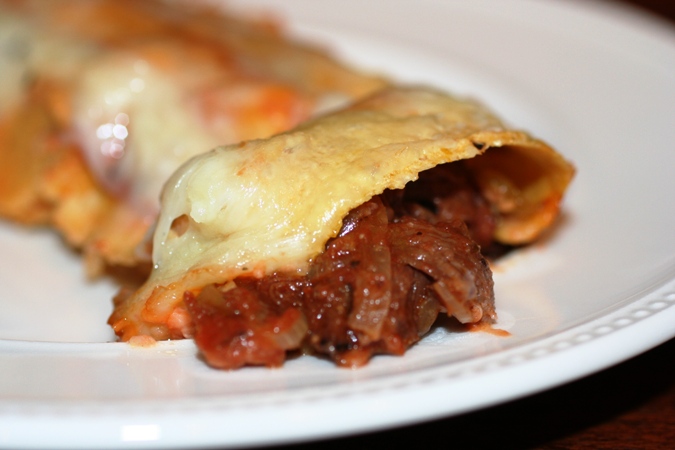 I have come to prefer corn over flour tortillas for enchilada meals, so this fit my tastes wonderfully!
(I topped mine with LOTS of Texas Pete Hot Sauce!)
Beef Enchiladas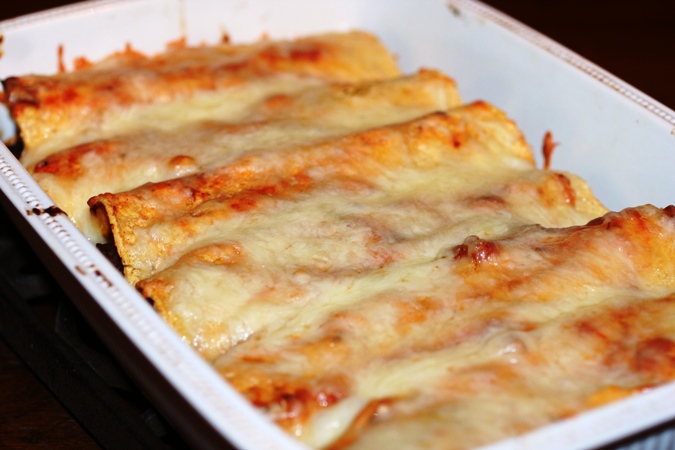 Ingredients
1 lb. cooked, shredded beef
1 minced onion (I sliced mine thin, and used a small to medium onion)
2 sm. cans diced green chilies
1 clove minced garlic
2 pts. tomato sauce (small can is what I used)
½ tsp. salt
1 beaten egg (I needed 2)
½ lb. grated Cheddar cheese (Monterey Jack would be great too!)
½ tsp. cumin
½ tsp. oregano
12 soft corn tortillas
Vegetables oil
1-2 c. enchilada sauce
½ c. sour cream
Instructions
Heat ½ inch of oil in skillet and fry tortillas about 15 seconds each side; remove and pat off excess oil. (I omitted this step, it seems like too many unnecessary calories, and it tasted great without it!)
In separate skillet, heat 2 tablespoons oil and saute onion until tender.
Add chili peppers, garlic, tomato sauce, salt, and pepper.
Add shredded beef.
Simmer uncovered 10 minutes.
Dip tortillas in egg, fill with sauce mixture, roll and place in shallow greased baking dish.
Pour enchilada sauce over tortillas, top with grated cheese and bake uncovered at 350 degrees for 15 minutes.
Serve with a dollop of sour cream on each portion. Serves 6.
Recipe developed by Kelly Hancock ©2010 Faithful Provisions. For personal use only. May not be reproduced, reprinted or distributed for capital gain without prior permission from Kelly Hancock.