Last weeks menu plan here, had a roasted crockpot pork recipe that was AMAZING!  From that cooked pork, I was able to make 2 more meals.  I made the Pork Fried Rice (below) and Pork Quesadillas.
This is my favorite way to cook;  cooking once, but turning it into two more meals!  So much less work for me and my family doesn't feel like they are eating leftovers.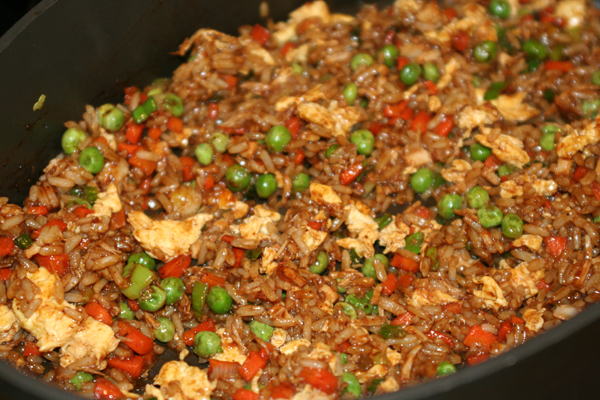 Pork Fried Rice
1 cup diced pork (leftover)
2 carrots, diced or shredded
3 green onions, chopped (or you can use white onion diced)
2 garlic cloves, minced
1 cup peas, frozen
2 cups leftover rice (I prefer brown)
4 tsp peanut oil (use canola if that is all you have)
2 eggs, beaten
1/4 cup hoisen sauce or black bean sauce (or you can use  4 T. soy sauce)
1. Heat 2 tsp of oil and scramble eggs, set aside in another bowl to add later.
2. Add remaining oil and sautee garlic and carrots for 2 minutes, then add onions, peas, rice, pork and sauce. Stir to mix and add eggs back in.
3. Serve with green or carrot salad with ginger dressing.