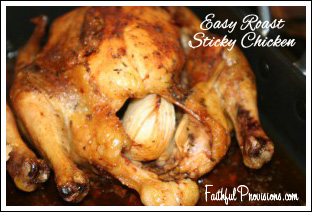 This easy Roasted Chicken recipe is one of my favorite ways to do chicken. It turns out a juicy, flavorful chicken every time–very much like the rotisserie chickens you purchase already cooked at your grocer's–but for less than half the price. When I am able to get regular chicken for $.79 per pound or organic chicken for $.99 per pound, I will stock up so that I have several chickens on hand in my freezer.
*Scroll down to use print recipe feature and add to your Recipe Box.
Oven Roasted Chicken
This recipe is for an oven roasted chicken. (Scroll down for the link to an adapted version of this recipe for the slow cooker.) Since I will have the oven on for five hours, I try to cook two chickens at a time. This saves energy, time, and allows me plenty of chicken so that I can create several different meals to enjoy throughout the week, and also, make a few of my favorite chicken recipes to freeze.
MORE RECIPES: Keep scrolling down to the bottom of this page, past the printable recipe, for more recipe ideas on how to use all the leftover chicken.
Easy Roasted Chicken
Is there such a thing as easy roasted chicken? Actually, yes! Preparing a whole chicken is SO easy. If you've never done it before, you'll be surprised at how simple it really is.  (The printable recipe is below.) These step by step instructions will show you exactly how to prepare a whole chicken.
This is all you do…
Preparing Whole Fryer Chickens (If your chicken is frozen, thaw in fridge for about 24 hours.)
1. Remove packaging and place chicken on a plate, or in a roasting pan. (I always do 2 chickens at a time.)
2.  Remove innards from the center of the chicken.  (I encourage you to wear disposable kitchen gloves to do this!) With your hands, separate the outer layer of fat from the chicken meat underneath it.  (See my picture below. This is what it looks like when separated.)  It is just like a little film, and you just pull it away.  Do that on the top and bottom of the chicken, and also around the legs.
3.  Take the seasoning mix in the recipe below (or your favorite), and just sprinkle it or rub it in between the chicken skin/fat and the meat that you separated.
4.  Quarter an onion or two and stuff a few pieces in the center (where you removed the innards). Be sure to dispose of kitchen gloves and wash your hands well when you are finished.
5.  Cook for 5 hours on 250 degrees.
6.  Baste after the first hour. (Basting is taking the pan juices and pouring them back over the top to keep it juicy!) If you don't have a basting tool like this bulb-basting syringe HERE, just use a spoon and pour it over.
*Cooks Tip: I use this same recipe for bone-in chicken breasts, and just cook in the oven at 350 degrees for 1 hour.
Slow Roasted Chicken in the Crock Pot
You can also do a slow roasted chicken in your slow cooker or crock pot. My crock pot version of a Slow Cooker Roasted Chicken Recipe is HERE. It's really easy to make this wonderful homemade chicken stock recipe when you make the roasted chicken in the slow cooker.
Roasted Chicken
Ingredients
4 teaspoons salt
2 teaspoons paprika
1 teaspoon cayenne (red) pepper
1 teaspoon onion powder
1 teaspoon thyme
1 teaspoon white pepper (optional)
½ teaspoon garlic powder
½ teaspoon black pepper
1 large roasting chicken, 3-5 lbs
1 cup onion, chopped
Instructions
In a small bowl, combine all the spices.
Remove the giblets from chicken, clean the cavity well and pat dry with paper towels.
Rub the spice mixture onto the chicken, both inside and out, making sure it is evenly distributed and down deep into the skin.
Place in a resealable plastic bag, seal and refrigerate overnight.
Before roasting chicken, stuff cavity with onion, and place in a shallow baking pan.
Roast, uncovered at 250 degrees for 5 hours.
After the first hour baste chicken occasionally (every half hour or so) with pan juices. The pan juices will start to caramelize on the bottom of pan and the chicken will turn golden brown. If the chicken contains a pop up thermometer, ignore it. Let the chicken rest 10 minutes before carving.
Roasted Chicken Recipes
Try any of these Roasted Chicken recipes with your chicken pulled from the bone.
What about you? What do you create with leftover cooked chicken? Share some of your favorite recipes below!
Recipe developed by Kelly Hancock ©2010 Faithful Provisions. For personal use only. May not be reproduced, reprinted or distributed for capital gain without prior permission from Kelly Hancock.