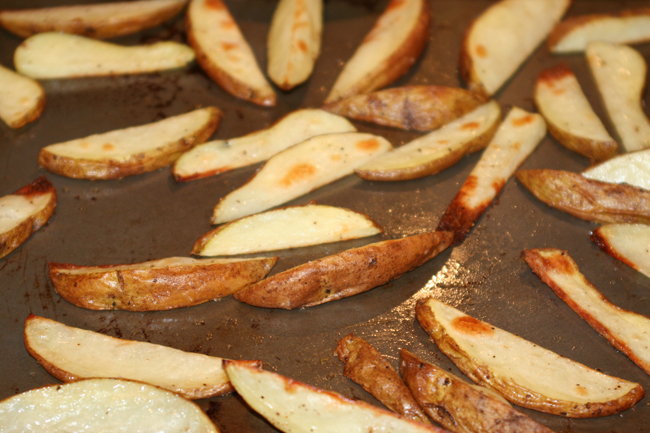 When Kroger has a great deal on organic russet potatoes, I will stock up so that I can have my own frozen potatoes on hand in my freezer. (If I don't have any on hand, I will resort to Ore-Ida Steak Fries, but while they're good, they are no competition for my own homemade steak fries, made with no preservative or additives!)
Besides making steak fries, I will use some of these potatoes I purchased for a meal of baked potatoes with salad, and I'll flash freeze some of them into hashbrown-sized pieces for my Hashbrown Potato Casserole that we love for the holidays. (Be sure to cook potatoes around 10-12 minutes in the oven and cool before flash freezing, or they will turn brown on you.)
Steak fries are so easy to make and you will love having them on hand. Just follow the steps below.
Steak Fries
Instructions
Wash and cut potatoes in half. Cut the halves in quarters, then in half again, and so on, until they are the size you see in the picture.
Toss with olive oil, salt, and pepper.
Cook at 450 degrees for about 20 minutes.
Let cool.
Remove from pan, place wax paper under them, they put them back on baking sheet lined with wax paper. (makes things easier)
Freeze for about 2 hours or until frozen.
Pull off paper and put into freezer bags, label, and store in freezer.