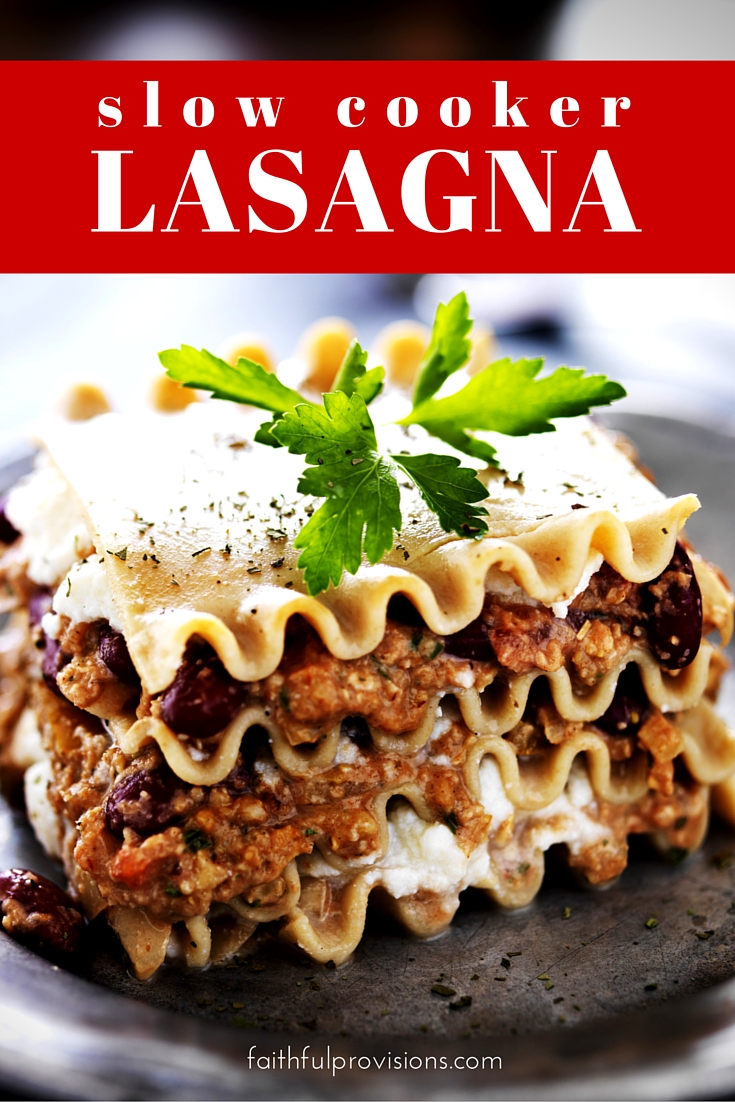 Welcome, Pinners! Please be sure to check out my Recipe Box to find more Crock Pot Recipes!
Everyone at my house loves lasagna, and if I can put it into my slow cooker, then I am one happy mom! I love having dinner ready and waiting in the evening, rather than scrambling around trying to throw something together.
This is a pretty straightforward and easy recipe. Be sure not to skimp on the sauce. Two jars sounds like a lot, but if you don't use two it is going to be dry.
Crock Pot Lasagna
Ingredients
8 lasagna noodles, uncooked
1 lb. ground beef
1 tsp. Italian Seasoning
2-28 oz. jars spaghetti sauce
⅓ cup water
4 oz. can sliced mushrooms
15 oz. ricotta cheese
2 cups shredded mozzarella cheese
Instructions
Break noodles.
Place half in bottom of greased slow cooker.
Brown ground beef in sauce pan, drain, stir in Italian seasoning.
Spread half over noodles in slow cooker.
Layer half of sauce and water, half of mushrooms, half of ricotta cheese, and half of mozzarella cheese over beef.
Repeat layers with remaining half of ingredients.
Cover, cook on low 3-5 hours.
Tips for cooking lasagna in your crock pot:
Use 2 jars spaghetti sauce. Be sure to put plenty on the top and sides
Ricotta can be substituted. If you don't have any ricotta cheese, use cottage cheese or cream cheese. I substituted one brick of cream cheese. It tasted just like ricotta. I just diced it up and spread the dollups all around.
Lasagna noodles can be substituted. You may use bowtie or penne and make it like a baked ziti. (Use what you have!)
Grease the whole cooker. I forgot this step the first time I tried this, and it was sticking like crazy!
Adjust the cook time. With my slow cooker, 5 hours was WAY too long. I could easily put it on low for 3 hours and it does just fine. It depends on your cooker, but remember, for this recipe, all it is doing is cooking the noodles.
Find more Slow Cooker Recipes on Faithful Provisions.
Recipe developed by Kelly Hancock ©2010 Faithful Provisions. For personal use only. May not be reproduced, reprinted or distributed for capital gain without prior permission from Kelly Hancock.