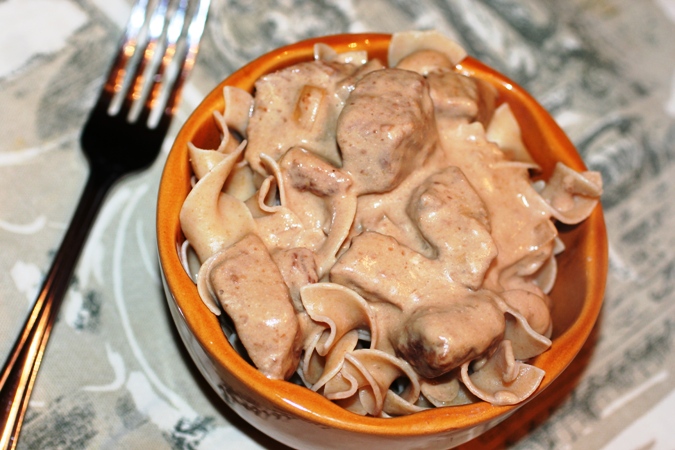 This summer we purchased a quarter of a cow, and I have been seeking out ways to use the different cuts of meat, like stew meat and beef tips. The crock pot is a perfect place to easily incorporate these cuts and make them taste great. A classic Beef Stroganoff was a staple in my house growing up, but my mom cooked it over the stove using higher end cuts of meat. I like this version, because once you put it together in the crock pot, you are done.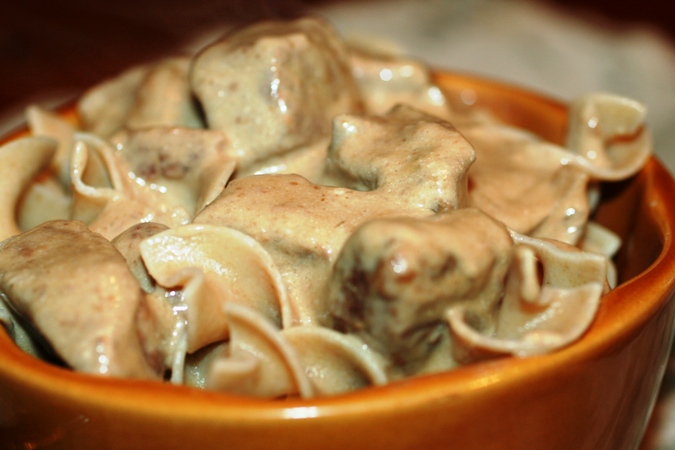 This Crock Pot Beef Stroganoff recipe utilizes less expensive cuts of meat. Using only a few ingredients, you can pull together a meal that tastes amazing!
*Scroll down to use print recipe feature and add to your Recipe Box.
My favorite way to serve Beef Stroganoff is over egg noodles, but lately I have started using whole wheat wide noodles (same thing) to make it a little healthier. Another way to kick it up a notch is to make your own cream of mushroom soup, versus the store-bought version. I hope to have mine up soon in the Recipe Box!
Since Beef Stroganoff is a pretty heavy dish, I like to serve it with something green and light, like a healthy side salad or steamed broccoli. With all the noodles, we don't even serve bread, but it would be fine to serve as a side (for dipping in the extra sauce).
This Beef Stroganoff recipe was enough to serve my husband and me and our two small kids. If you have big eaters, and a larger family, I would recommend doubling or even tripling this recipe. As is, it was just enough for each of us to have a medium-sized helping and a side.
Lastly, I have noticed that most crockpot recipes advocate cooking on low for 8-10 hours. I don't know if my slow cooker just cooks warmer or what, but I usually only cook my meat on low for 4-5 hours, keeping it in any longer would make it dry and stringy, especially if it is a lean cut.
Crock Pot Beef Stroganoff
Ingredients
1-1 ½ pounds cubed stew meat or beef tips
1 can cream of mushroom soup
1 cup mushrooms, sliced
1 medium onion, diced
¼ cup Worcestershire sauce
¼ water
1-2 teaspoons hot sauce (Frank's, Texas Pete's or Tobasco)
½ teaspoon lemon pepper seasoning
4 oz of cream cheese, cubed
½ bag of egg noodles
Instructions
Combine all ingredients except the meat and cream cheese and stir together.
Once combined, add the meat and stir.
Cook on low for 4-5 hours.
Just before serving, add cream cheese.
Mix until combined and heated through.
Serve over egg noodles.
Try these Crock Pot Recipes:
Recipe developed by Kelly Hancock ©2010 Faithful Provisions. For personal use only. May not be reproduced, reprinted or distributed for capital gain without prior permission from Kelly Hancock.