I love this crock pot Black and White Chicken Chili recipe because it's an unexpected twist on what has  become one of my fall favorites. There's nothing like a wet, blustery fall day to make you crave a delicious soup or chili for dinner. And since this is made with the help of your slow cooker, it will be waiting for you when you're ready to eat it.
*Scroll down to use print recipe feature and add to your Recipe Box.
I hope you're enjoying using the new Philadelphia Cooking Creme products. It's the perfect add-in for this recipe. Many white chicken chili recipes call for adding milk or cream to the recipe, but in this Black and White Chicken Chili, you don't get the zip of flavor or the really creamy consistency like you do when you add the Cooking Creme. I used the Savory Garlic flavor for this chili and it was absolutely perfect: rich and smooth-tasting, with the garlic enhancing all the other spices. It smelled incredible all afternoon. At dinnertime, everyone was blown away by the taste and asking for seconds!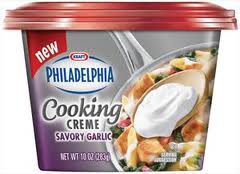 Serve with chips, bread, or my homemade wheat rolls. You can top with any or all of your favorite add-ins. (This recipe is easily doubled if you are feeding a crowd!)
Crock Pot Black and White Chicken Chili with Philadelphia Cooking Creme
Ingredients
1 pound shredded or diced cooked chicken (Use leftovers from my easy roasted chicken .)
2 cans black beans, drained and rinsed
1 can white beans, undrained (Northern or Cannellini)
1 can white corn, undrained
1 can chicken broth
1 tub PHILADELPHIA Savory Garlic Cooking Creme
1 tablespoon olive oil
1 onion, diced
3 garlic cloves, pressed
1 teaspoon dried oregano
2 teaspoons cumin
1- 2 tablespoons chili powder (depending on your taste)
½ teaspoon salt (sea salt is preferred)
1 teaspoon white pepper (optional)
½ teaspoon cayenne (optional--if you want it really spicy!)
Instructions
Combine all ingredients into a crock pot and simmer on low for 4-6 hours. If possible, stir about midway through cooking time.
Have you been using the new Philadelphia Cooking Cremes? Have you thought about adding them in a thick and creamy white chicken chili like this one? I'd love to hear your ideas!

I was selected by Kraft Foods to participate in the Philadelphia Cooking Creme recipe program. While I have been compensated for my time, my opinions are my own, and I have not been paid to post positive comments. For more information about Faithful Provisions, please read my Disclosure Policy.