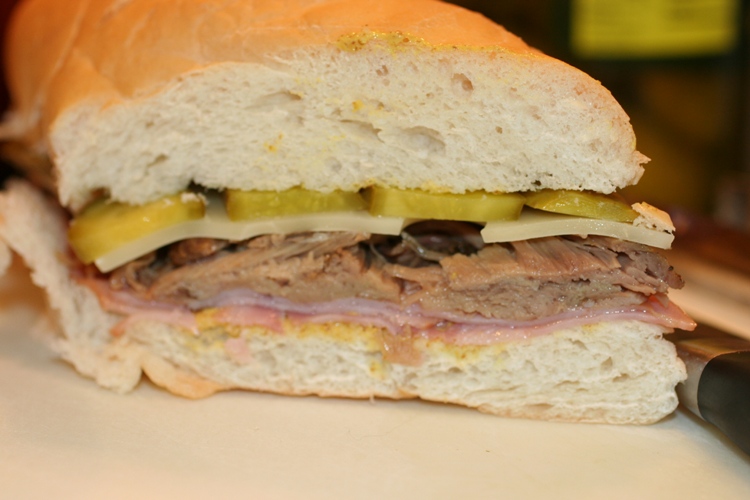 The best time to make a Cuban Sandwich is when you need a meal to use up pork roast (a Boston Butt or Pork Shoulder). I actually take leftovers and freeze them in 1/2 lb or so increments, to pull out for these sandwiches when I have all the other ingredients.
Last week I got some ham on sale and I found some great french loafs so all I needed was the swiss cheese.
My husband loved these.  I made them for him on Saturday while he was watching the NCAA tournaments. Served with steak fries, it was a guys meal, but I loved it too!
Cuban Sandwiches
1/4 – 1/2 lb leftover pork roast (you can wing it, just fill the sandwich!)
4-5 slices of ham
3-4 slices swiss cheese
pickle slices
brown mustard
french or cuban bread (not baguettes, they are too hard)
Cut bread down the center.  Layer both sides generously with mustard.
Then layer ham, pork, cheese and pickles.
There are two ways to cook this 1) wrap in aluminum foil and heat in oven, or the traditional way 2) grill in a pan and put another heavy pan on top to "smash" the sandwich thin.
Print Recipe: Click on the green "print friendly" icon at the bottom of this post, and check "remove images" for a printable version.