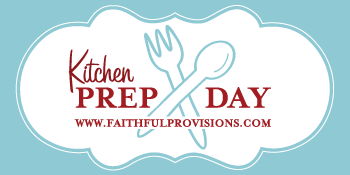 I was originally going to do my Kitchen Prep Day this week, but since it is Easter and my plate is full, I am going to do it next week. I will be cooking on Tuesday, April 6th.  So, I hope you are ready to start planning and join me! Checkout  my previous Kitchen Prep Day posts to get an idea of how to plan and what to expect.
There are some templates on my FREE Downloads page that you can use to help keep you organized.
__________________________________________
Okay, now that you have a plan on HOW to plan, here my tentative plan for what I will be making next week.
Homemade Yogurt
Cream Cheese Mashed Potatoes – I have 20 lbs of potatoes to use!
Bread Machine Wheat Rolls – new recipe!
Spinach Cream Cheese Lasagna – yes I like cream cheese.
Sausage Cheese Balls
What are you going to do for your Kitchen Prep Day? No matter what level of prepping you are doing, give us some inspiration and leave a comment with your plans.