PLEASE NOTE: This giveaway is now closed. The winner has been notified via email.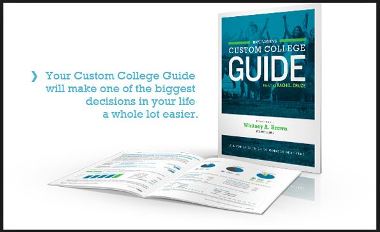 It's been a while since I was in college, and it's going to be a while before my kids are there, so my friend David Powell agreed to review this new product from Dave Ramsey, The Custom College Guide. Read his review, then scroll down to enter our giveaway!
As a high school senior, I've learned many things about what to expect in college: great friends, horrible food, late nights, and lots of coffee.
I couldn't be more excited.
I've learned something else, though.
College is super expensive.
And the cost seems to be climbing. As a prospective college student, I completely understand that. I've been hoping for some scholarships and, like everyone else, I'll be taking a few loans.
And that's the trap. That's where I missed it.
Getting Money for College
When it comes to getting money for college, no one shoots straight about loans because it just doesn't seem to matter at the time of enrollment. No one talks about how people grabbing student loans right now will be paying off those loans for a large majority of their lives. In all my college visits, no admissions team has cautioned me about student debt.
The huge cost of college is just put on a shelf for a while and totally forgotten about while you're busy studying, partying, and figuring out what you want to do with your life. ~Dave Ramsey
Despite what you may have heard, students don't have to go into debt to go to college. Dave Ramsey's Custom College Guide is here to show them how.
Dave Ramsey, radio talk show host, author, and expert on money, has seen how going into debt in college has diminished the opportunities of American young adults. Enlisting the help of his daughter, Rachel Cruze, Dave has built the Custom College Guide to organize your university options and point you in the right direction.
How the Custom College Guide Works
Recently, I received my Custom College Guide. It's helped my college search, and it will help yours too. Here's how it works: When you call for your Custom College Guide, a real, live adviser answers. You tell them as much as you possibly can about everything related to your college situation: where you're thinking about going (you can choose up to six schools), what kind of money you can put towards it, your grades, your background, and your best SAT or best ACT score. They put the information together, and about a week later, you'll get your personalized custom college guide, tailored with information specifically for you, showing your best buy when it comes to college.
The call was painless, and both people I talked with couldn't have displayed better customer service. The whole process took around 20 minutes.
Money-Saving Features
The guide shows you how to save money like a champ. It's everything you'd expect from Dave Ramsey, the father of The Total Money Makeover and Financial Peace University. Not only do you get tips on ways to make college expenses easier to bear, but you also learn:
What college is most cost-effective for you: When giving your information when you order the guide, you have the opportunity to list up to 6 colleges that you have interest in. The guide breaks down the cost of each and compares them side by side for you. It's even color-coded.
What government and state aid you're eligible for: The guide lists the possible government and state financial aid in your location. This is helpful, because it shows possible scholarships that you might not have even known about. Then, based on information you gave while ordering, it tells you whether or not you're eligible for the scholarship.
FAFSA Filing: The college guide comes with a FAFSA service! Everyone has to file the FAFSA for college, and it determines quite a bit about what scholarships you'll receive. It's not a fun process, though. No one likes to fill out the FAFSA. With the college guide, though, all you have to do is call Dave's team and let them do it for you.
The best part about this guide for me is wrapped up in two points:
The guide shows you the most affordable school from your options
The guide shows you how to afford the school you choose from those options.

Stay out of Student Loan Debt!
Article by Faithful Provisions contributor David Powell
FAITHFUL PROVISIONS GIVEAWAY
I'm inviting you to enter for the chance to win your own Dave Ramsey's Custom College Guide. See all the details below.
FAITHFUL PROVISIONS GIVEAWAY DETAILS
Dave Ramsey is offering one copy of Dave Ramsey's Custom College Guide (a $139 value!) to one randomly selected winner. The winner will be announced notified via email on Thursday, March 7, 2013.
Faithful Provisions Giveaway Disclosure: Dave Ramsey sponsored this giveaway. For more information about Faithful Provisions, please read my Disclosure Policy.
====================
HOW TO ENTER….
*One entry per person per method of entry per day. Be sure to enter a separate comment for each method of entry (one comment for Facebook, one comment for Twitter, etc.). This way you have a higher chance of winning. PLEASE LEAVE AN EMAIL THAT YOU CHECK OFTEN, SO THAT WE CAN NOTIFY YOU EASILY IF YOU WIN.

**6 Entries per Person per Day** This giveaway runs through 11:59 pm, Wednesday, March 6, 2013.**
1. COMMENT: Leave a comment telling me what college or university you or your student would like to go to, and if you think it's possible to go debt-free.
2. NEWSLETTER SIGN-UP: Subscribe to my Email Newsletter – even if you already receive it, add an entry as a comment below!
3. TWITTER: Follow Faithful Provisions and Dave Ramsey on Twitter.
4. FACEBOOK: Follow Faithful Provisions and Dave Ramsey on Facebook.
5. Tweet this: Win a copy of @daveramsey Custom College Guide from @faithfulprov & go to college debt free http://ow.ly/i93Sf
6. Post this to your Facebook wall: Win a copy of @daveramsey Custom College Guide from @faithfulprov & go to college debt free http://ow.ly/i93Sf
====================
GIVEAWAY ENDS Wednesday, March 6, 2013, at 11:59 pm CST. The winner will be drawn using Random.org. The winner will be notified via email.