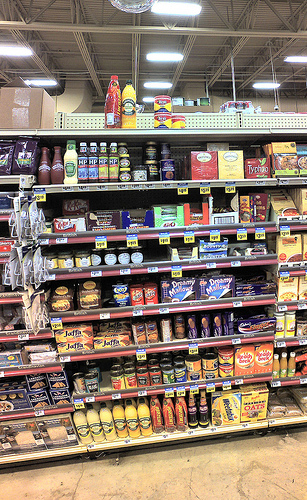 When I first began couponing, I faced many of the same issues that Faithful Provisions reader Jennifer writes about below. I feel like we have all experienced these challenges on some level, so if you see yourself here, don't feel alone. Thanks, Jennifer, for sharing your story so openly and honestly with all of us.
My Coupon Journey
"My coupon journey began three years ago. In 2008, my husband took a new job and relocated our family to a new "home" 900 miles away. For the first time in my married life, I was a full-time mom, and we were living completely on one income. Having moved into a more affluent community than our previous one, I began putting extra pressure on myself. Although I didn't have any control over the money coming in, I could control how the money went out.
A friend forwarded a deal she received from Faithful Provisions. I was amazed at all the great money-saving tips I found on the website. After exploring the site more, I discovered that site owner Kelly Hancock would be hosting a Couponing Workshop at my local church so I signed up.
Instantly, I was hooked. Being a "money-minded" person, the math of couponing and finding deals was easy for me. Before I took Kelly's class, our family was spending around $850 per month in groceries for our family of five. I took Kelly's advice and began to slowly build my stockpile. I subscribed to the Sunday paper and clipped and printed off my coupons diligently. After about four months, I was able to lower our monthly budget to $500 per month.
It Wasn't Enough
But that wasn't "enough" for me. I had a goal in my mind to get to a budget of $40 per week. After one year of couponing I actually reached that goal.
I would spend hours each day reading Faithful Provisions and other money-saving blogs and looking for the BEST deals each week. I searched for ways to get the most moneymakers in my transactions. I worked and re-worked my grocery list in order to spend the lowest amount out-of-pocket. To my amazement, I was able to build a large stockpile, while still keeping within the boundaries of my $40 per week budget.
People would be in awe behind me in the checkout lane, watching me walk away with over $200 in groceries for $.28! Friends and neighbors would marvel at my stockpile. While I wasn't doing anything unethical in my couponing, I began to feel "something" inside me saying this wasn't quite right.
That "something" was the conviction of the Holy Spirit. One summer day, God used a conversation with a dear friend to convict me. He showed me that I had allowed couponing to become my god. I had allowed control, pride, and fear to choke out the voice of the Holy Spirit in my life. I had become so focused on sticking to my $40 budget amount that I couldn't see anything else.
Trusting in God
I argued with God. God, how can this be bad? I'm being a good steward of the money you're giving my family. We're living on less than we make. I'm able to provide meals for my family for a fraction of what most people spend. I'm donating boxes and boxes from my stockpile to food pantries and needy charities.
Then it hit me: Where was my need for God? It was all about me and what I was doing. If I was able to provide everything for myself, then I wasn't relying on Him to provide for my family. I was trying to control how we spent our money based on fear. And while the action of donating to needy charities was good, my heart motive was full of pride in what I was doing.
Upon that realization, I confessed to God what I was doing. Not because He didn't already know, but because my heart needed to say it. I allowed myself to be okay to spend more than $40 per week on groceries, because I trusted in my God to provide."
Then Jesus said to his disciples: "Therefore I tell you, do not worry about your life, what you will eat; or about your body, what you will wear. Life is more than food, and the body more than clothes. Consider the ravens: They do not sow or reap, they have no storeroom or barn; yet God feeds them. And how much more valuable you are than birds!" (Luke 12:22-24)
After reading Jennifer's story, what are your thoughts? How do you know when couponing is beginning to take over your life? Please share your story with us.
Read more about the Extreme Nature of Couponing: