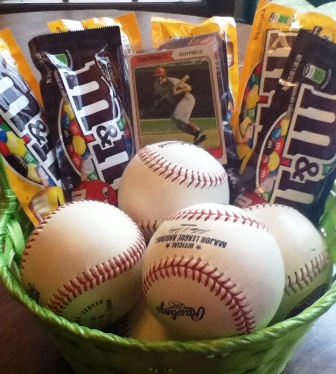 [pinit]
Is your little boy not so little anymore? You need ideas for an Easter basket to make that is just for him. Maybe this year's Easter basket ideas need to step it up a notch, getting away from the "peeps" and bunnies. (Although I don't think you are ever too old for a chocolate bunny.) It's not hard to coordinate Easter baskets for boys. Just go with the things that interest your growing son, and you'll acknowledge he is not a "little kid" anymore. Check out these great Easter basket ideas for boys:
A Baseball Player's Easter Basket
It's baseball season, so if you've got a player, how about filling a basket with new baseballs and his favorite candy? Add in a collector's baseball card. These don't have to be expensive. You can find them on eBay (or maybe even in Granddad's attic). What about a couple of packs of new cards? Instead of plastic green grass, line the basket with the Sports page. This is an Easter basket to make for anyone who loves baseball. You may want to add:
A pair of tickets to see a local Minor League game
Microwave popcorn
Bubble gum (He's never too old for Big League Chew Bubblegum!)
Eye black
New baseball cap
 A Music Lover's Easter Basket
Another Easter basket to make for boys? If you've got an older boy who likes music, fill a basket with:
iTunes gift cards
New ear buds
A couple of CDs
Accessories he can use: Guitar strings, guitar picks, drum sticks
A T-shirt of his favorite band (This time of year, before beginning their summer tours, you will find most bands getting rid of last year's merchandise inventory. You will be able to get some great deals on all kinds of band merch, like T-shirts, bracelets, hats, and posters.)
A Book Lover's Easter Basket
After raising two boys, I'm pretty much convinced that readers are born, not made. If you've got a son who loves to read,  an Easter basket to make for him should include:
The next book in the series he's reading
A new book by his favorite author
Gift cards to his favorite coffee shop or restaurant
A gift card to Amazon
Acknowledging that our sons are growing up might even mean getting a (gasp!) new Easter basket—you know, minus the baby chicks and ducklings waddling across the handle, LOL. But keep your Favorite Easter traditions. Your kids really want you to hang on to those. My daughter, who is grown, makes sure that we still make the Empty Tomb Cookies every year. So many memories flood my mind as I remember the little children that I used to make those cookies with the night before Easter, while I now watch my beautiful, mostly grown children repeating the steps.
Don't forget to add in a note with a few Scriptures on it, making sure that your son knows you love him and that you're proud of the young man he's becoming. Try these:
Trust in the LORD with all your heart; do not depend on your own understanding. Seek his will in all you do, and he will show you which path to take. (Proverbs 3:5-6)
How can a young person stay pure? By obeying your word. (Psalm 119:9)
Don't let anyone think less of you because you are young. Be an example to all believers in what you say, in the way you live, in your love, your faith, and your purity. (1 Timothy 4:12)
 ========================
Article by Rebecca Ingram Powell
What are you putting in your older boy's Easter basket this year? I'll still be putting cars in Garrett's!
No boys at your house? You should be able to choose an Easter basket for Kids from any of our great ideas on Faithful Provisions. Girls too!