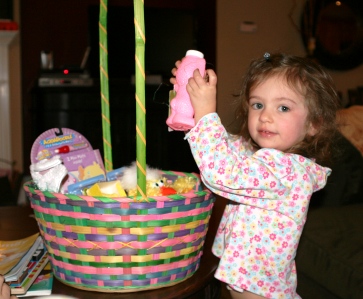 [pinit]
Are you looking for an Easter Basket to make that is easy? I love going for themed baskets because once I basically decide on a direction I am going, it becomes much easier to fill the basket. Remembering the age of the child that you are making the Easter basket for is very important.
TIP: If you are a grandparent, remember that kids grow quickly. What they liked last year may not fit their style or their body this year! Give parents a call to see what the latest hobbies and interests are. Then you will be sure to come up with an Easter basket to make just for them.
Get inspired for filling your Easter Basket when you use these ideas. As you can see, the sky is the limit!  I got some great ideas and feedback from the Faithful Provisions Facebook readers, and will try to include many of them here. As always, I would love your input!
An Easter Basket to Make with Toys and Crafts
Beach pail and shovel (as basket)
Kites
Sidewalk chalk
Bubbles
Beach and sand toys
Play-doh
Puzzles
Paints, brushes, water colors, pastels, crayons
Bath toys
Swim goggles
Action figures
An Easter Basket to Make For Learning
Coloring books
Board books
Activities book
New Bible
Story Bibles
Board games
Educational DVDs
Fillers to Round Out Your Easter Basket
Toothbrush and toothpaste
Snack size foods (sugar free, gluten free, preservative free, color free, options)
Eggs filled with money/coins
Admission passes (local theme parks, pools, or zoo's)
Restaurant gift cards (like $5 for Chick fil A , PinkBerry or Sweet CC's)
Character plates and cups
Laminated memory verse cards on bright colored card stock
With Easter coming in April this year, it's given me time to collect lots more Easter Basket Ideas for you! What are your favorites?